January 31 , 2014
An important public service announcement (PSA) is currently being broadcasted across five Bell Media radio stations with three more PSAs to follow.

During the first PSA, a London Health Sciences Centre trauma surgeon urges people to drive according to weather and road conditions stressing the heartbreak and devastation that can result from reckless driving.
The second PSA will feature a nurse also appealing to the public to drive safe. Two other PSAs are being broadcasted from a police perspective.

The PSA's are part of the London Middlesex Road Safety Committee's winter driving safety campaign. The London Middlesex Road Safety Committee includes the Middlesex London Health Unit, LHSC's Trauma Program, Ministry of Transportation, City of London, County of Middlesex, London Police Services, OPP, Fanshawe College, and Western University's Police Services as well as other road safety partners. All work collaboratively to decrease traffic related fatalities and injuries in London and Middlesex.

"There are no car accidents, there are motor vehicle collisions," says Jane Harrington, injury prevention specialist, LHSC. "Safe driving prevents collisions and saves lives."

The following are simple safe driving tips for winter that can prevent collisions:
Clear all snow and ice completely off windows, side view mirrors, headlights, taillights and license plates.
Keep your windows and mirrors clean. Use the defroster and windshield wipers to maximize your vision.
Slow Down - The posted speed limit is intended for ideal road conditions- in poor conditions, reduce your speed.
Keep your headlights on all the time - don't rely on daytime running lights.
Signal well in advance of turning to give other motorists time to react to your actions. Check your rearview and side mirrors, and always check the blind spots before changing lanes.
Allow yourself extra time for travel, or wait until conditions improve.

More safe winter driving tips can be found at: Ontario Ministry of Transportation website: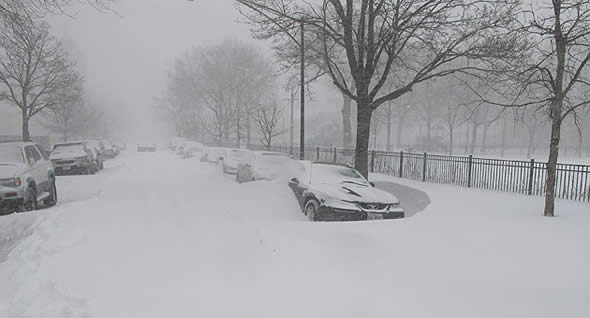 Image by Kumar McMillan at http://www.flickr.com/photos/kumar303/