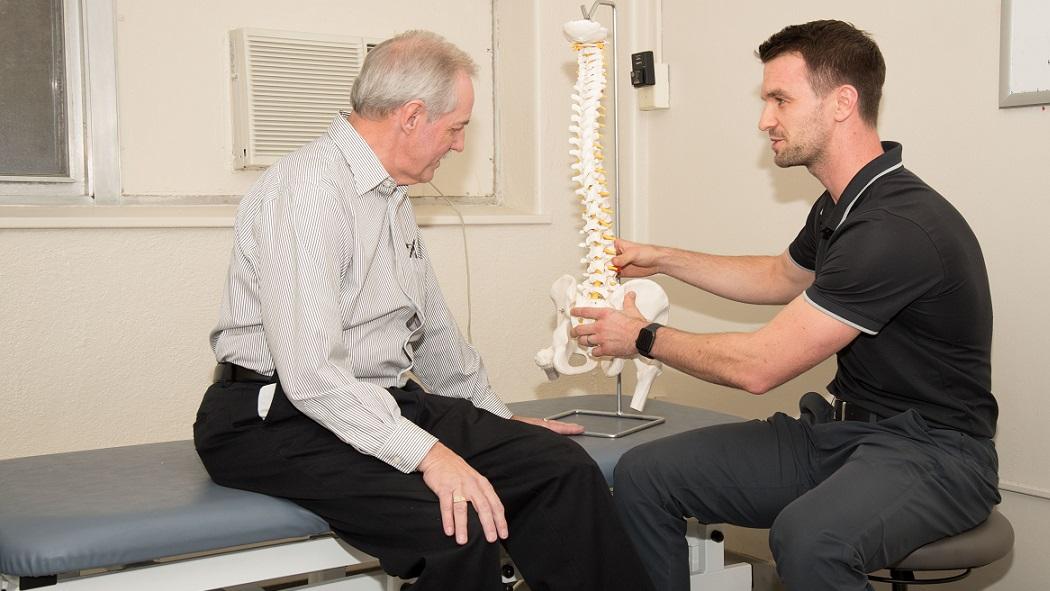 When Peter MacLellan walked into the Musculoskeletal Rapid Access Clinic (RAC) for Low Back Pain at London Health Sciences Centre's (LHSC) Victoria Hospital, he was expecting to be referred to a surgeon. He met with Brent Cunning, an advanced practice provider (APP) and physiotherapist, who after a thorough assessment discharged Peter with knowledge on how to manage his symptoms and a referral to a physiotherapist, not a surgeon. Peter is one of over 300 patients since July who have been referred to the RAC for low back pain instead of being directly referred to a specialist such as a surgeon.
One session with his new physiotherapist, Peter felt better than he had in 18 months, no surgery required. Peter couldn't believe he felt so much better considering the multiple MRIs, doctor visits and a referral to a surgeon that had occurred prior to his assessment at the RAC. "There was no equipment, no two million dollar machine. The effort was next to nothing to get results!" he says.
The RAC for low back pain is a province-wide initiative to help patients get the right care at the right time by the right practitioner. To be referred to the low back pain RAC, patient's physician completed a one-time online module and was added to the Interprofessional Spine Assessment and Education Clinic's (ISAEC) database after which the physician can refer seamlessly to the program.
The RAC for low back pain only sees a portion of the spine surgeon's population, specifically only those who are experiencing low back pain and low back related leg pain. This is different from the RAC that services the individuals with moderate to severe osteoarthritis of the hip and knee, as they see the majority of patients who are referred to an arthroplasty surgeon.
The low back pain RAC is a shared care model between the RAC, family physician and other health providers. Once the physician completes and faxes the referral form, central intake staff arrange an appointment for the patient to see an advanced practice clinician at a location of the patient's choice.
Currently in the South West LHIN the RAC locations are at the Wingham and District hospital, Woodstock General Hospital, St. Thomas Elgin General Hospital and at LHSC's Victoria Hospital. In Peter's case, he was contacted by central intake after approximately six weeks and had his appointment with Brent within three weeks.
Peter was discharged after an initial assessment, however, others may require further assessment by an advanced practice lead (APL). Ravi Rastogi is the APL for the South West LHIN. Ravi has the ability to send patients for further testing, arrange for lumbar spine diagnostic/therapeutic injections and/or booking for surgical consult with a spine surgeon. "Patients can leave my office knowing what the next step is and if it's a surgical consult, they know the date and time," Ravi explains.

After being seen by the APP or APL, the family physician is advised of the patient's outcome generally on the same day. From July to September, 417 patients have been seen with 33 per cent discharged requiring no further follow up. Forty-two per cent needed to be followed up by the APP and 25 per cent seen by the APL, Ravi. A small percentage of those who saw Ravi required a surgical consult. In total, only 32 of the initial 417 patients were sent to a surgeon.
For patients this saving of time and pain with improved quality of life is immeasurable. An active person who enjoyed hiking and fishing before his issues began, he's excited to be back to 50 per cent and hopes to achieve 90 per cent by the new year. "I know it will never be the same. Once you stretch a rubber band, it loses part of its original elasticity. But my activity level is ramping up." Peter says.
Peter did not need to wait the 12-18 months he was expecting for a surgical consult to find out he should have gone to a physiotherapist in the first place. The purpose of the RAC for low back pain is to help patients like Peter get the right level of care they need as soon as possible.