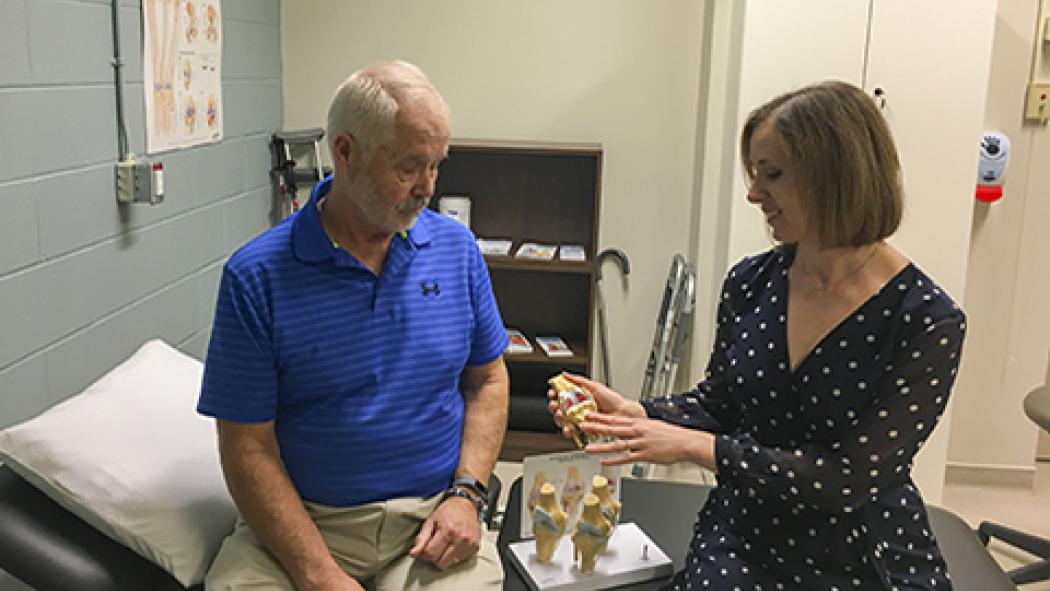 Patient advisor, Eric Riley and Rhonda Bulter, Advanced Practice Lead at the Rapid Access Clinic at University Hospital discuss knee pain.
May 23, 2019
Officially launched April 15, the Musculoskeletal (MSK) Rapid Access Clinics at London Health Sciences Centre (LHSC) are already having a positive impact on the lives of patients waiting to see a surgeon for low back pain, and hip and knee pain.
Eric Riley, a patient advisor was included in the development of this program at LHSC. Working with the dedicated team in the musculoskeletal department, he was initially hesitant as to whether the project would be implemented due to its size and complexity. "This is a big job and they pulled it off. It is a cause for celebration. The MSK group broke down the silos and got the different occupations talking and collaborating." Eric references how the group was able to bring together a number of professions and create a single point of contact for both the patients and the care providers, and create the environment to make this a success.
Patients who are on the waitlist have quick access to an Advanced Practice Provider who provides an assessment to help get the right type of care at the right time. Presently these providers are physiotherapists with advanced training and work with the surgical teams, though they can also be occupational therapists, chiropractors or nurse practitioners.
The patient's physician makes a referral which goes to a central point of contact. The goal, once those on the waitlist have been contacted, is to have a patient be assessed within a month of the physician writing a referral. This means patients will be assessed quickly and put on the treatment path that is right for them.
From the 128 assessments completed already for the low back pain waitlist, only 32 per cent (or 41 patients) required a surgical consult referral. For hip and knee pain 69 per cent (or 85 patients) of the 124 assessments required a surgical consult. A surgical consult includes patients who require injections, other medical related needs as well as those who likely require surgery. With respect to low back pain, this can have a big impact on avoiding unnecessary tests like MRIs, getting therapy when it can be most impactful, and decreasing the risk of opioid use and misuse.
Having gone through knee, hip, back and shoulder surgery himself, Eric Riley knows the pain and frustration that many patients express. One of the aspects he likes about the rapid access clinics is they give patients "support, assistance, knowledge and resources quickly….Knowledge is power." This applies to both patients who are put on a treatment path and those who receive a referral to a surgeon.
Of those who have received a referral, they now know what to expect and what steps they can take to help improve their outcomes. The patients will have the option to choose the next available appointment or the surgeon of their choice, while knowing what the wait times for the options will be. An advocate for close to two years, Eric feels "this is empowering patients, giving them a say - which I'm a fan of."
The rapid access clinics are moving quickly to meet the needs of patients who are currently experiencing low back pain, and hip and knee pain.