April 25, 2012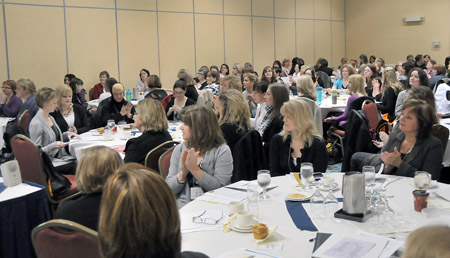 The first annual LHSC & St. Joseph's Administrative Professionals One Day Conference took place on Tuesday, May 3, 2011. This event sold out within 48 hours, with 120 administrative assistants and aspiring administrative professionals were in attendance. 
The focus of the day was to inspire, motivate and educate. The agenda provided several skill enhancing tools, such as keys to assertiveness, project management and meeting through technology.  LHSC President and CEO, Bonnie Adamson, provided opening remarks and Dr. Gillian Kernaghan, president and CEO of St. Joseph's Health Care London, brought the day to a close. 
A tribute to the success of last year's conference and the group's interest in this kind of learning conference, the 2012 conference has been changed to a larger venue to include more attendees. There are 165 people attending the conference and participating in Administrative Professionals Day on Wednesday, April 25, 2012.
A special thank you to all Administrative Professionals for the extraordinary work you do every day!