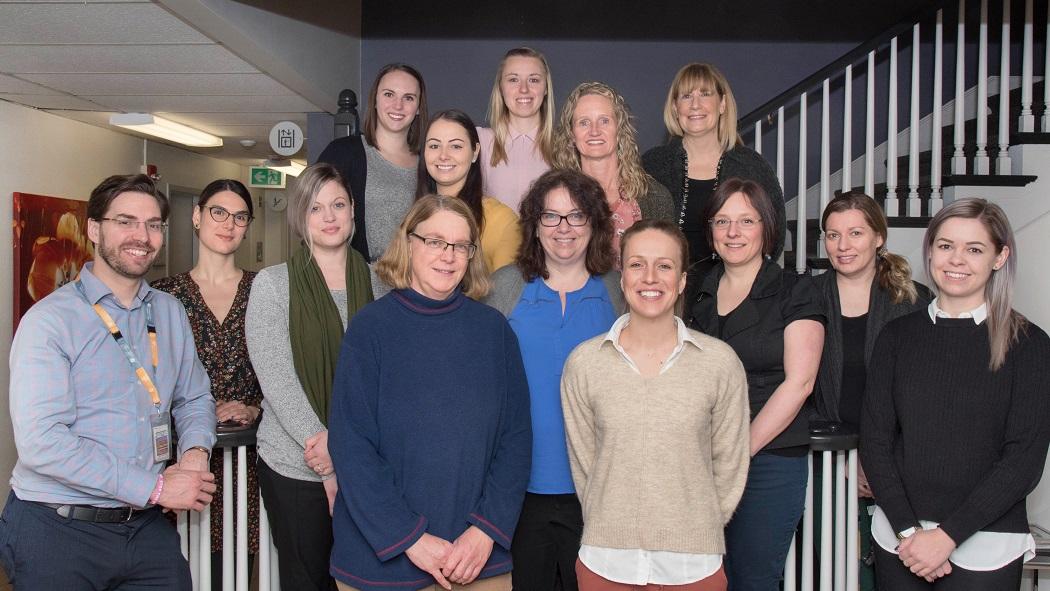 Members of the Adult Eating Disorders Service encourage those suffering with an eating disorder to seek help during eating Disorders Awareness Week.

Eating Disorders Awareness Week, February 1-7, is a nation-wide awareness week designed to educate the public about Eating Disorders. Eating Disorders can affect individuals of all genders, ages, races and ethnic identities, sexual orientations, and socio-economic backgrounds. This year's theme "Can't Afford to Wait" is to encourage an estimated 1,000,000 Canadians affected by an Eating Disorder to seek help.

"On average, individuals with eating disorders wait 149 weeks before seeking any kind of help," says Elizabeth Phoenix, Registered Nurse, Nurse Practitioner, Adult Eating Disorders Service (AEDS), London Health Sciences Centre (LHSC). "At our service we often see people who have been suffering for a decade before seeking any help."

AEDS is a community based program provided by LHSC and the Canadian Mental Health Association (CMHA) Middlesex. The eating disorders treatment program is nestled in the community setting at 54 Riverview Ave., rather than in hospital.

Individuals interested in AEDS can speak with their physician to be referred. Once a referral is received, people are assessed, receive appropriate diagnoses, and work with the team to develop a collaborative treatment plan. We offer intensive day treatment with or without residential treatment. Several years ago we began offering individual outpatient treatment where individuals only attend appointments once a week, making treatment much more accessible to people who were previously unable to take time off work or school to attend our intensive program.

"People are reluctant to seek help because they may fear being stigmatized for their illness, or that they are not sick enough because their weight is normal, and yet the majority of people with eating disorders are actually not underweight." explains Phoenix. "Everyone deserves help, everyone deserves care and we want remove those barriers so that people seek it."

Someone at home can self-assess by answering the SCOFF questionnaire (Morgan, Reid, & Lacey, 2000), five questions that address core features of an eating disorder. Those questions are:
Do you make yourself sick because you feel uncomfortably full?
Do you worry that you have lost Control over how much you eat?
Have you recently lost more than One stone (14 lb) in a 3-month period?
Do you believe yourself to be Fat when others say you are too thin?
Would you say that Food dominates your life?
Two or more "yes" answers reveal a sensitivity to an eating disorder, and further assessment should be sought. Even if you answer no but think you may have an eating disorder please speak to your family doctor.

Recent innovations by an international team in the United Kingdom and Australia have developed a condensed form of Cognitive Behavioural Therapy treatment for eating disorders that is briefer and has similar results to standard treatment. AEDS has been recently trained in this intervention and will be comparing it to current practice over two years, utilizing a randomized controlled trial, to determine its efficacy.

"Our patients are encouraged to take an active role in their care and we discuss what that care will look like with them," adds Phoenix. "If you are suffering please seek help now. You can't afford to wait."