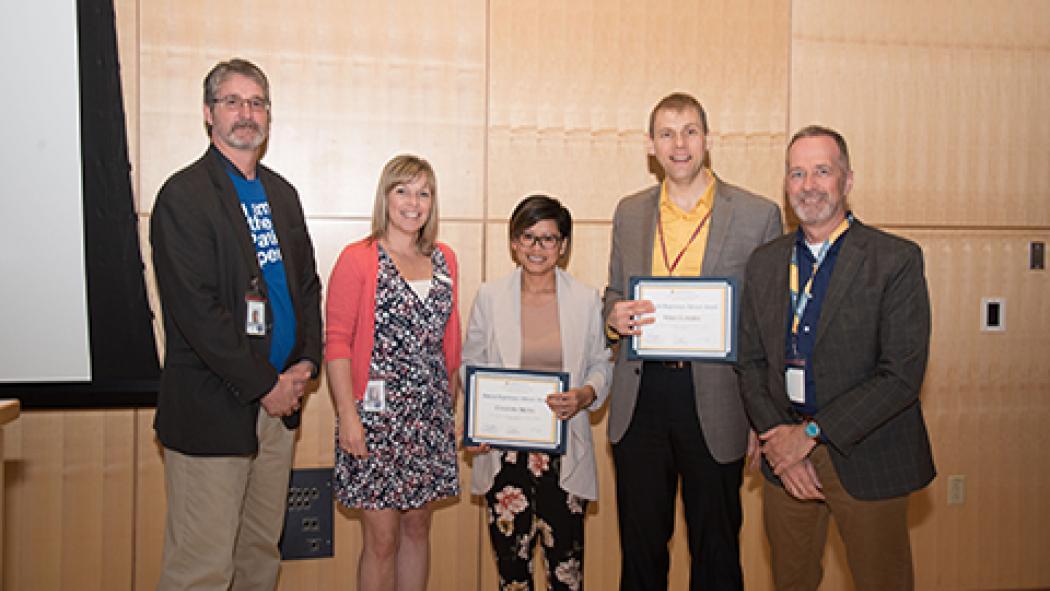 May 2, 2019
Recognizing and celebrating the outstanding work of individuals and teams who show a passion and commitment for improving the patient experience at London Health Sciences Centre (LHSC) was the focus of the inaugural Patient Experience Awards presented during Patient Experience Week April 23-26.
LHSC has a proud tradition of care and strives to deliver care that results in better health and safer outcomes for patients. The Patient Experience Awards are an opportunity to acknowledge some of the efforts undertaken by passionate individuals within LHSC who are working daily to ensure patients are at the centre of everything LHSC does.
Four categories of awards were created and 24 nominations submitted for consideration. Nominees were from a wide range of departments including portering, medical imaging, food services and paediatric emergency.
The recipients of the inaugural awards are:
Physician Award – Dr. Roderick Lim, Paediatric emergency
Patient and Family Advisor Award – Vince Londini and Chantha Sreng with Women's Health
Staff Member/Leader Award – Chantel Antone, Indigenous Navigator with cancer care
Team Award – Lawson Health Research Institute Grants Development Team (Janice DeMoor, Maria Ramey, Macarena Pampillo, Dr. Patricia Riccio)
A paediatric emergency physician, Roderick Lim received the Physician Award in part for creating a culture of compassion, family-centered care and life-long learning in his department. His dedication to minimizing the fear, uncertainty, pain and discomfort of his patients is an example of the compassion and care he provides to his patients. Dr. Lim also instituted a continuous quality improvement council for the department to help staff identify and act upon areas of improvement, creating avenues for patient experience improvements.
Vince Londini and Chantha Sreng both received the Patient and Family Advisor Award for their commitment to improve the culture of patient experience in both the Fertility Clinic and the Women's Care Program at LHSC. Through their combined efforts, these advisors have become the voice of many who are struggling with infertility. They are an inspiration and influence on other patients to become advocates of their own health care. Both participate in committees, focus groups, interviews, surveys and during the accreditation process. The award recognizes how each of them has positively impacted the direct care and treatment decisions at LHSC.
Chantel Antone, an indigenous navigator with LHSC, received the Staff Member/Leader Award for her work in supporting indigenous patients visiting London Health Sciences Centre for cancer care. Chantel helps bridge the cultural divide between health care providers and their indigenous patients. She works to ensure seamless, coordinated care and services by assisting patients and their families navigate the health care system, and advocates for the patients by advising staff and administration of issues. Her work focuses on fostering a culturally safe environment for indigenous patients at LHSC while working with regional and provincial agencies to improve indigenous cancer care on a larger scale. She seeks to promote culturally sensitive, safe and competent care at LHSC.
The Lawson Health Research Institute Grants Development team was recognized for incorporating patient advisors into the hospital-based research grants approval process. Their recruitment and onboarding process for patient advisors to provide feedback on the relevance and feasibility of applications from a patient perspective earned them the Team Award. This feedback is considered by scientific reviewers when completing their evaluations of submissions, and provided to the applicants. The team is now moving forward with the introduction of patients to peer development teams for the creation and review of external research grant proposals, and in ongoing review of research data design and knowledge translation. They are working to incorporate patients and patient feedback into various facets of the grant application and approval processes.
The patient experience at LHSC is being advanced by staff, physicians, patient and families whose dedication and determination were recognized and celebrated during Patient Experience Week. Anyone who is interested in becoming a patient and family advisor is encouraged to contact the Patient Experience Office by phone 519-685-8500 ext 75457 or by email patientexperience@lhsc.on.ca.