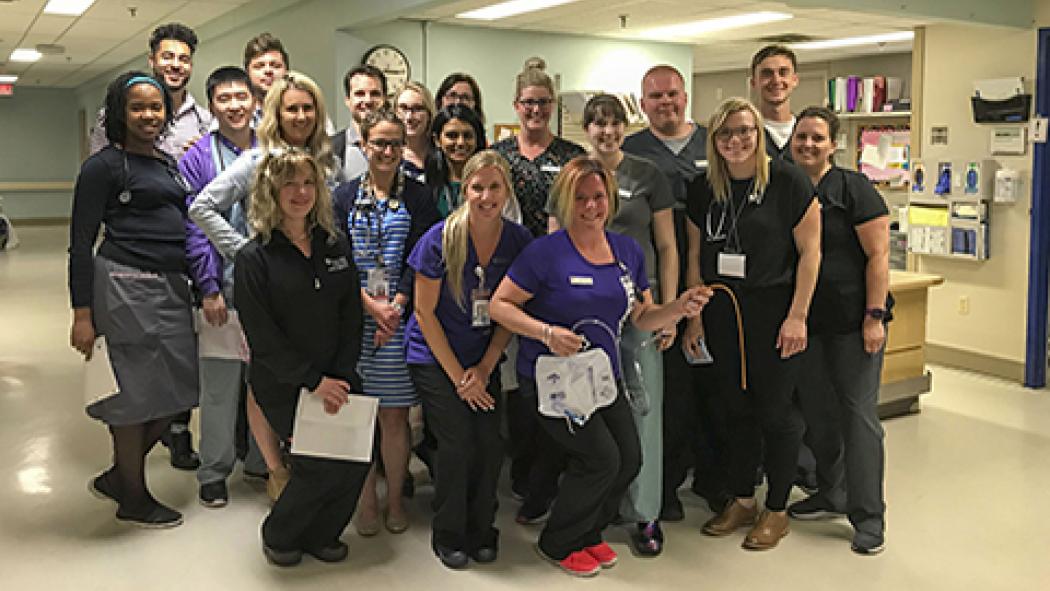 July 8, 2019
Inpatient Medicine at Victoria Hospital (VH) launched Choosing Wisely Canada's "Lose the Tube" toolkit beginning in October of 2018. Assessing patients with urinary catheters inserted to empty the bladder on a daily basis using established appropriateness criterion and removing catheters that are no longer medically necessary were the goals of the project. The target was to reduce catheter prevalence on all Medicine units by 30 per cent by April 2019.
In partnership with the Department of Medicine, area leadership chose to focus on unnecessary catheterization given that prolonged catheterization can lead to adverse outcomes for patients, such as catheter-associated urinary tract infections, decreased mobility, increased risk of acute delirium and longer than expected lengths of stay.
Beginning in October of 2018, baseline studies using weekly audits were conducted over a 14 week period to determine the rate of prevalence. Front-line staff in collaboration with the VH Medicine Leadership Team, Joey Carson a performance improvement consultant and Dr. Mary-Margaret Taabazuing Acute Care of the Elderly physician lead, determined that 18 per cent of hospitalized patients in their units were catheterized. Of those, 36 per cent did not necessarily need to be catheterized.
While establishing baseline prevalence, several barriers to removing inappropriate catheters were identified including: a lack of standard indicators or "appropriateness criteria" for catheter use; a lack of clear understanding why some patients were initially being catheterized; misinformation regarding the benefits and risks of indwelling versus intermittent catheters and poorly calibrated and inaccessible scales for weighing adult incontinence briefs.
With these challenges identified, the team set their goal of a 30 per cent reduction in catheter prevalence by April 30, 2019. Their strategy included educating and empowering nurses on the catheterization appropriateness criteria.
Using a Plan-Do-Study-Act (PDSA) approach, the initiative required preparation, collaboration, training and a new medical directive. Other steps to address the challenges identified included daily audits, standard documentation, and in-services to over 150 nurses and physician trainees.
Using the toolkit from Choosing Wisely Canada the team engaged stakeholders including great support and engagement from several physician teams to ensure the criteria met LHSC standards and processes. Following some minor customization of the criteria, implementation began with creating an algorithm and an order set for the algorithm in the electronic orders, a nursing directive, and the education and engagement of nursing staff. Training began in mid-November and continued over a four month period.
"The staff have been incredibly engaged in this project and have driven the changes resulting in our success," Tim Rice, Director of Medicine VH explained. "Empowering the nurses to make these decisions has been very positive."
Since the initiation of PDSA cycles in January of 2019, 13 consecutive weeks showed a decrease below baseline. The project team is pleased to have met their goal of reducing catheter prevalence by 30 per cent and is now focused on sustaining these results and implementing the project at University Hospital.
Through this collaborative project, Inpatient Medicine is making sure patients and families receive the safest quality care possible.