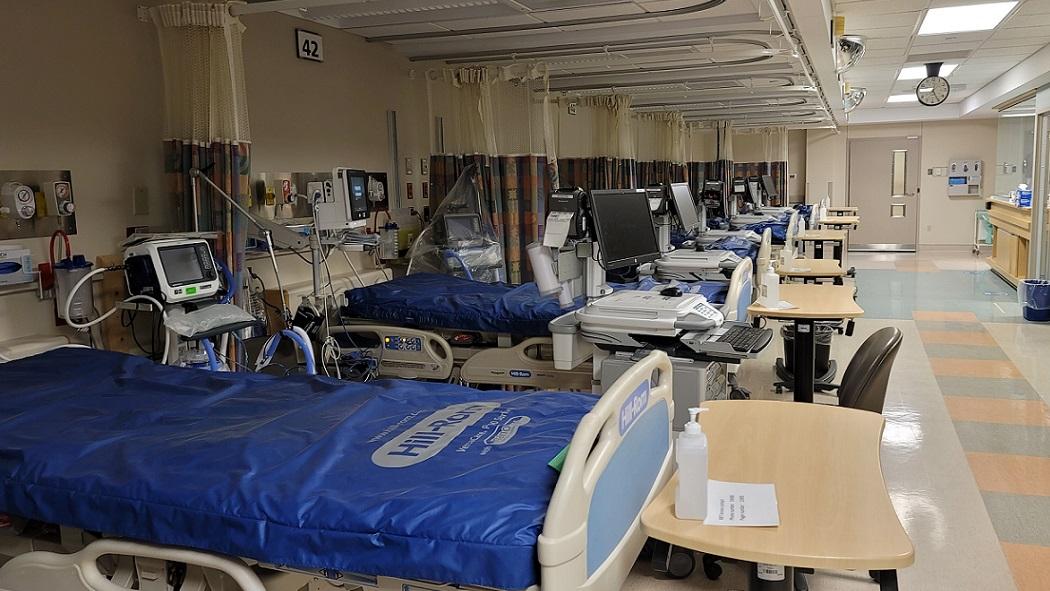 April 20, 2021
As the COVID-19 situation worsens across the province, London Health Sciences Centre (LHSC) is collaborating with provincial partners to respond to the needs of patients in Ontario. Over the past week, 18 new critical care beds were opened at LHSC's Victoria and University hospitals to address increased demand for critical care.
"Early in the pandemic, contingency plans were carefully developed to increase LHSC's critical care capacity if needed," explains Dawna Van Boxmeer, Director of Critical Care and Respiratory Therapy at LHSC. "This is the first time we have needed to operationalize those plans."
Eight new critical care beds have been opened at Victoria Hospital, located in what is normally a medical day unit, and ten new beds have been opened at University Hospital in a day surgery prep area. The beds are currently active with critically-ill patients.
The opening of these beds is the result of collaboration across multiple LHSC teams and the dedication of staff and physicians in adapting to an extraordinary situation. In addition to redeploying staff to the new area, work included installing specialized life-saving equipment such as ventilators, monitors and IV pumps; activating information technology systems; and engaging multiple teams to ensure compliance and safety.
"It takes a lot to open new critical care beds, especially when opening them in a non-critical care area of the hospital. This was made possible through exceptional teamwork," says Van Boxmeer. "These new beds are helping us accommodate the increasing numbers of critically-ill COVID-19 patients, allowing us to safely care for as many patients as possible."
LHSC continues to work with partners across the province, including the Ontario Critical Care COVID-19 Command Centre, to accept patient transfers from areas of the province hardest hit by the third wave. We humbly ask that Londoners and those across the province join our staff and physicians in responding to this health crisis by following all public health guidelines, including the provincial stay-at-home order, and getting vaccinated as soon as you're eligible.