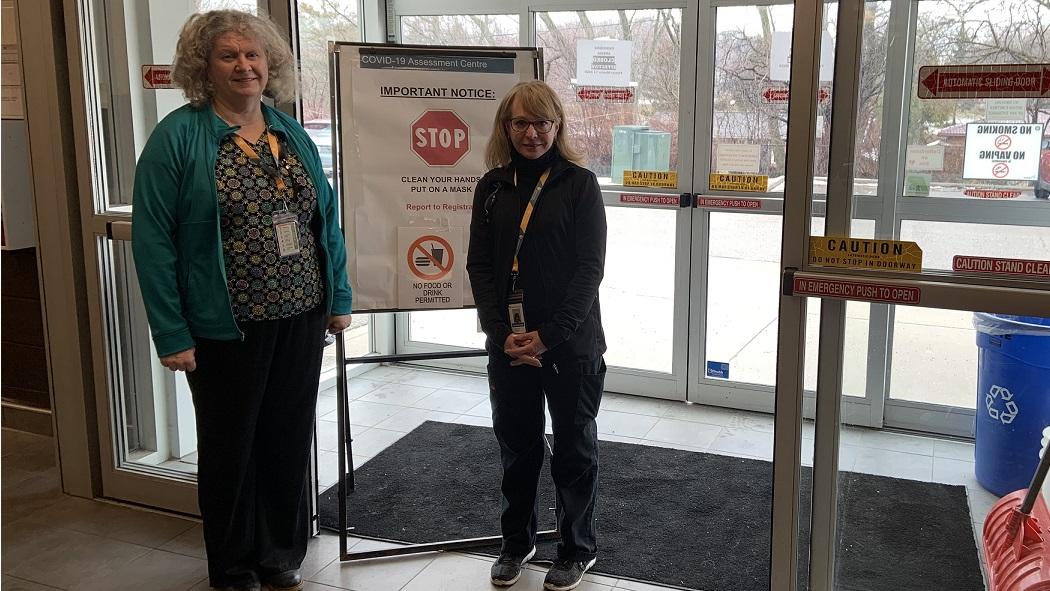 April 8, 2020
Left to right: Retired nurses Joanne Kelly-Nichols and Deborah Denton are working at the Oakridge Arena COVID-19 Assessment Centre
Over 4,000 people assessed at COVID-19 Assessment Centres in first few weeks of opening
The first COVID-19 Assessment Centres in London opened March 16 at Oakridge Arena, and the second on March 20 at Carling Heights Optimist Community Centre. By the end of the month, the centres had assessed over 4,000 people with the help of retired nurses.

When London Health Sciences Centre (LHSC) and its partners at St. Joseph's Health Care London and Middlesex-London Health Unit were tasked with opening a COVID-19 Assessment Centre in three days at Oakridge Arena, organizers knew it would be challenging to find enough staff with the clinical skills to help educate and guide those concerned about their COVID-19 symptoms to work at the centre.

The solution – overseen by LHSC's People and Culture department – was to reach out to LHSC's recently retired nurses who are still registered with the College of Nurses of Ontario.

Joanne Kelly-Nichols and Deborah Denton are two nurses who have returned from retirement to the front line of health care to help at the Assessment Centre.

"I worked H1N1 and I worked through SARS, so I know what my [Intensive Care Unit] colleagues are going through, so it was an easy decision," says Joanne Kelly-Nichols, who retired from LHSC eight months ago.

Working at the Assessment Centre, retired nurses played a key role in getting the centres up and running by providing education and further guidance for individuals who had concerns about COVID-19.

Deborah Denton is another retired nurse who helped at the Oakridge Assessment Centre. "I drove home after my first shift and I said to myself, 'I do not believe how much I have missed nursing.' I guess once a nurse always a nurse."

While LHSC has reduced its direct involvement with the assessment centres, retired nurses are still actively engaged in other areas. LHSC is grateful for our retired personnel who are volunteering to come back to assist with the community response to the COVID-19 pandemic.