June 12, 2015
It's time to roll up your sleeves and donate! 
June 14 marks World Blood Donor Day, raising awareness for blood donation and thanking blood donors for their life-saving efforts. This year's theme is "Thank you for saving my life." 
At LHSC, staff and physicians see first-hand the impact that blood donations can have on our patients and as health-care providers we have an imperative to help maintain a stable blood supply.
This is why LHSC is a proud Partners for Life (PFL) member and participates in the annual Canadian Blood Services "Hospital Challenge" in June and July, which challenges every hospital in south-central Ontario - from Windsor to Owen Sound, Toronto and Niagara - to donate the most number of blood units during June and July.
"The need for blood is particularly high during the summer months when the number of trauma incidents is higher. With areas such as our regional trauma and cancer programs - both high blood-product users - LHSC uses the majority of all blood products collected in London," says Carol Young-Ritchie, VP, Patient Centred Care. 
Friends and family members of LHSC staff are also eligible to donate as an LHSC Partners for Life member. Register online through a link on the Partners for Life intranet site or let CBS staff know you work at LHSC the next time you donate. (LHSC ID LOND012624). Because each hospital's tally will be tracked through Partners for Life donations, it is important for you to be registered as a PFL member before you donate.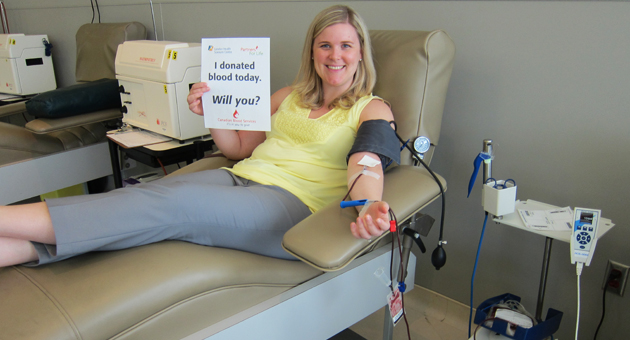 Kelly Hutchinson, LHSC Partners For Life Champion, donates blood during the first week of the 2015 Hospital Challenge.