August 17, 2018
Rowbust Breast Cancer Survivor Dragon Boat Team traveled to Szeged, Hungary in July to compete in the Club Crew World Championships and came home with three gold Medals in each race distance category.
200m Race

500m Race
2000m Race
This accomplishment marks Rowbust's third championship world title in the Breast Cancer Survivor Division in as many times competing at the Club Crew World Championships. Congratulations Rowbust!
2014 Ravenna, Italy

2016 Adelaide, Australia
2018 Szeged, Hungary
The LHSC staff, who competed with Rowbust in Hungary, are Dr. Tracy Sexton, Radiation Oncologist, LRCP, Linda Kuska, registered nurse, Orthopaedic Clinic VH, Margaret Warden, registered nurse, POGO Interlink Community Pediatric Cancer, and Patsy Ste. Marie, registered nurse, Multi-Organ Transplant Unit UH.
Rowbust is a team made up entirely of breast cancer survivors from London and surrounding area. They will be celebrating their 20th anniversary in 2019. Rowbust also organizes and hosts the London Dragon Boat Festival, a large community dragon boat festival in which many LHSC teams participate in every year.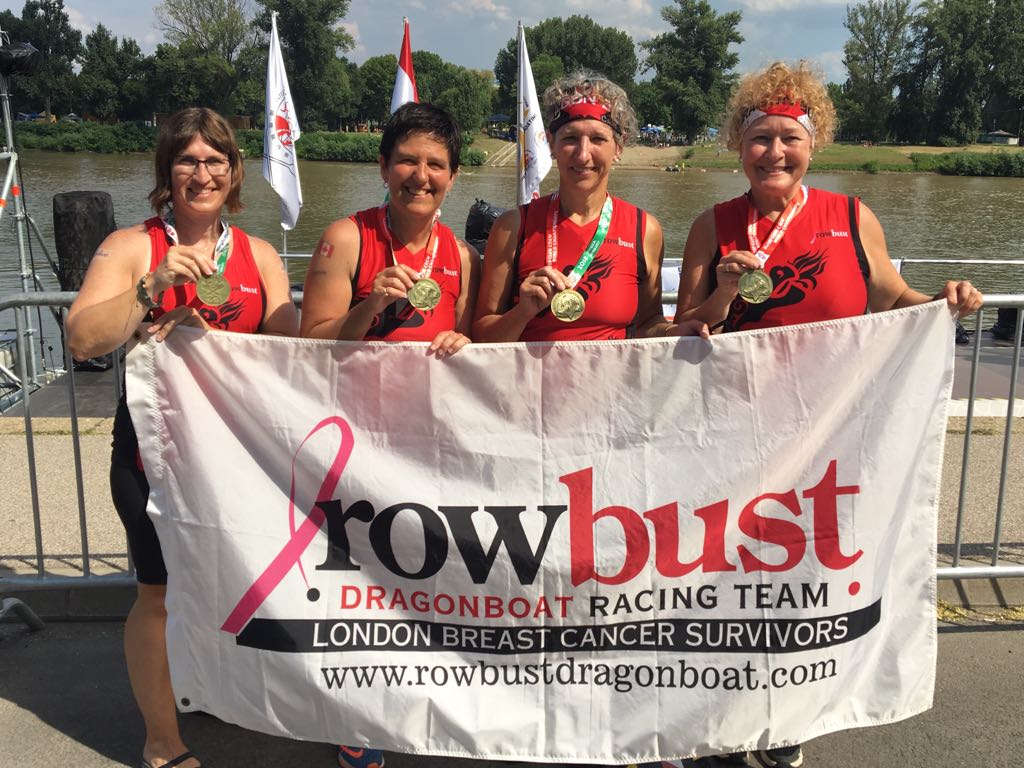 LHSC employees (from left) Dr. Tracy Sexton, Linda Kuska, Margaret Warden and Patsy Ste. Marie celebrateRowbust's third world title.