August 13, 2012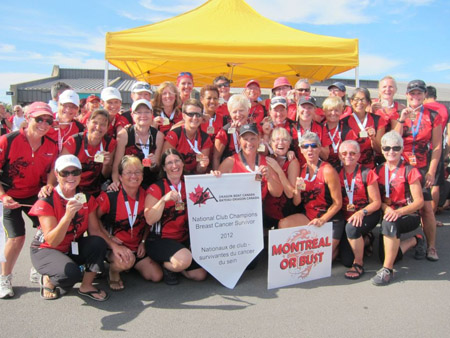 Over the weekend of July 27, the Rowbust Dragon Boat Racing Team competed in Montreal at the 2012 Canadian National Dragon Boat Championships where they took home gold in the women's breast cancer survivors division. They are now three-time Canadian National Dragon Boat Champions!
Rowbust is a local dragon boat team comprised of all breast cancer survivors; many of whom are employees of London Health Sciences Centre. The team trains year-round, six months on the water at Fanshawe Lake and six months indoors at The Athletic Club, who has generously sponsored them for the last 10 years.
Competitions during this special festival were held on the Olympic Basin at Parc Jean-Drapeau, close to Montréal's downtown area.
"Everywhere you looked, the Olympic rings were proudly displayed," says Linda Kuska, registered nurse, orthopaedics/trauma, at LHSC's Victoria Hospital. "Our first day of competition was the also the first day of the Summer Olympic Games – it gave us goose bumps to just think about it!"
Congratulations to the entire Rowbust team.