September 19, 2013
The Rowbust Breast Cancer Survivor Dragon Boat Team recently traveled to Victoria, British Columbia to compete in the Canadian National Dragon Boat Championships where they won their fourth Canadian title.
The Rowbust team is in its 14th paddling season and is made up of 68 members who are breast cancer survivors from the region, including several LHSC employees.  The national crew, which includes 22 paddlers, a drummer keeping time and a stern as well as eight extra team members traveled to Victoria to race on Elk Lake in late August.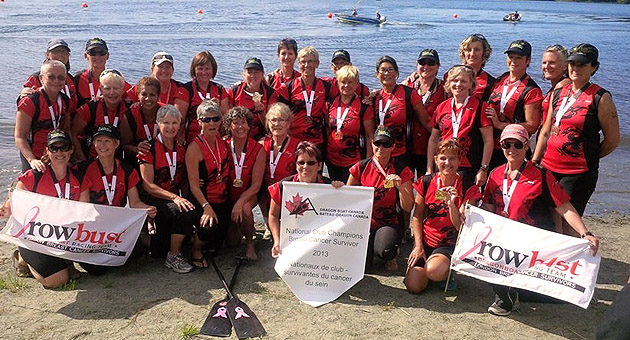 The National Rowbust Crew with their gold medals and championship banner
This was the fourth time that Rowbust has competed in the Canadian Nationals and the team was successful in winning the gold medal in the Breast Cancer Survivor Division taking their fourth Canadian title! Linda Kuska, an RN in the orthopaedic clinic (VH) and Rowbust team member, says winning was an amazing feeling.
"We had never competed against Victoria teams before and we didn't know what our competition would be like. So, this one was very sweet!"
Rowbust has now qualified to compete at the Club Crew World Championships in Ravenna, Italy in September 2014. Competing at the world's in Italy will mark the first time a Canadian breast cancer survivor team will participate on the world stage.
Rowbust was the vision of Dr. Annette Richard, a family physician in London, who placed an article in a local newspaper looking for breast cancer survivors to start a dragon boat team in London. The team officially came together in February of 2000.
Dragon boating has been around for centuries but became a sport for breast cancer survivors in Vancouver in 1995 by Dr. Don McKenzie. It began as a research project to disprove the idea that breast cancer survivors could not do any upper extremity physical activity because it would make the lymphedema worse. Dragon boating was chosen because it offers upper extremity activity and accommodates many people. After a year, Dr. McKenzie's research proved that lymphedema did not get worse.  The project was complete but paddlers didn't want to stop, and these ladies became the team known as Abreast in a Boat — a team that Rowbust raced and beat in Victoria.
Rowbust is also the organizer and host of the Fanshawe Dragon Boat Festival in which 16 hospital teams and a total of 62 teams participated in this past June. In the last two years, hundreds of LHSC employees have participated in this event. 
Rowbust will be wrapping up their season by Thanksgiving weekend with some fall paddling when potential new members can come out and see what is involved.  The team trains out of London at the Fanshawe Yacht Club in the summer and is sponsored by The Athletic Club for their winter training.