February 11, 2016

Many Londoners began their morning shoveling snow and driving slowly and cautiously to work through snow squalls. At London Health Sciences Centre's Victoria Hospital, staff were greeted by the Trauma Program's Injury Prevention Team with ice scrapers, emergency blankets and winter driving safety tips. 
"We are reminding people of the importance of safe winter driving and helping them be prepared for sudden changes in road conditions," says Jane Edwards, Injury Prevention Specialist. "Careless driving can cause multiple people, and their families, heartbreak and devastation. A few precautions can save many lives."
A Public Service Announcement being broadcast across London and area and voiced by Dr. Neil Parry, Trauma Surgeon, LHSC, is urging people to drive according to weather and road conditions. The PSA is part of the London Middlesex Road Safety Committee's winter driving safety campaign. 
The London Middlesex Road Safety Committee includes LHSC's Trauma Program, the Middlesex London Health Unit, Ministry of Transportation, City of London, County of Middlesex, London Police Services, OPP, CAA as well as other road safety partners.  All work collaboratively to decrease traffic related fatalities and injuries in London and Middlesex.
Some tips to stay safe while on the road this winter:
Plan ahead, use your judgment

Check the weather forecast and plan extra time to get to your destination or whether you should delay your trip

Be prepared

Make sure your vehicle is winter ready – keep fuel and windshield washer fluid topped up
Have emergency supplies with you (including warm clothes, jumper cables, blanket, shovel)

Slow down, stay alert and in control

Slow your speed based on the conditions and allow extra space between you and other vehicles
Signal well in advance of turning to give other motorists time to react to your actions. Check your rearview and side mirrors, and always check the blind spots before changing lanes.
Buckle up and phone down
More safe winter driving tips can be found at: Ontario Ministry of Transportation website Ontario.ca/winterdriving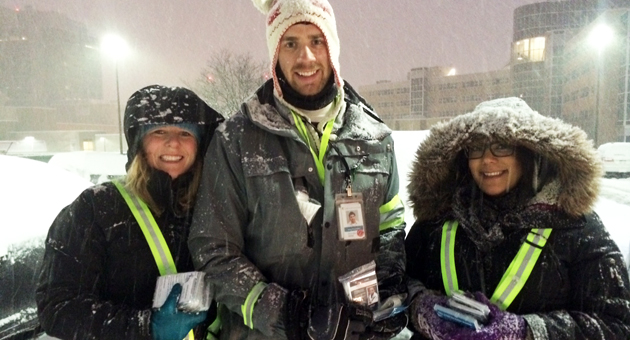 From left, Jane Edwards, Brandon Batey and Tania Haidar, members of London Health Sciences Centre's Injury Prevention Team, hand out ice scrapers to staff and patients as they arrive at Victoria Hospital.