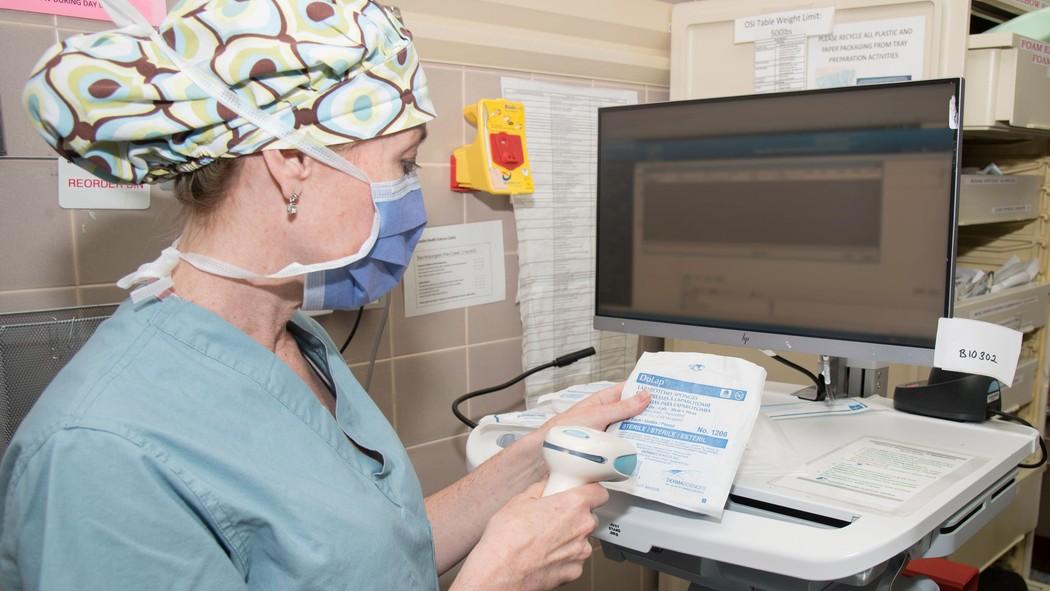 Katherine Richardson, OR nurse demonstrates the new scanning process now standard in the operating rooms at VH.
Spring brought a new process to the operating rooms (OR) at Victoria Hospital (VH), to support improved patient safety, informed decision making and work flow, while at the same time providing real time information and opportunities for future decision making.
Clinical Product Information Optimization (CPIO) implementation has provided an interface between electronic patient records (EPR) and supply chain systems, allowing scanning or manual documentation of most consumables used in the ORs for each operative case. Documentation in the EPR of items used during the patient procedure is expected to improve patient safety by reducing data entry errors, reduce time spent on rush supplies to the OR, and reduce product waste from items being opened and then not used.
A joint initiative of London Health Sciences Centre (LHSC) and St. Joseph's Health Care London, CPIO was launched at St. Joseph's Hospital on March 26 followed by VH on April 30. Both launches were very successful and well received.
"At first I was hesitant as I felt scanning would take away from patient care," says Klara Desa, OR nurse at VH. "The scanners are easy to use and it is interesting and often shocking to see how much items cost."
CPIO is operational at VH and will roll out early this summer at University Hospital, establishing the new processes citywide. Next steps will include reviewing the metrics in detail.
"Our initial launch went extremely well, and we see good opportunity to expand the functionality in the future," says Holly Jarvis, Charge Nurse Spine, Plastic and Neurosurgery VH and CPIO Clinical Lead. "We hope to expand the use of bar codes with the technology which will allow us to improve the flow of supplies to the OR, and ensure clinical teams have what they need at the right time, at the right place and in the right amount for the right case."
Analysis of the data will provide opportunities to standardize processes reduce costs and ensure safety for patients as it relates to product usage. This will enhance decision-making for our clinicians and leaders.
"Surgeons have been receptive to the scanning and information it provides," notes Jarvis. "This will allow them to look at individual case costing and could result in savings opportunities for LHSC."
CPIO supports the Strategic Direction: Deliver Exceptional Quality & Safety and Ensure Organizational & Resource Alignment of LHSC's Strategic Plan 2018 – 2020 Working Together to Shape the Future of Health.