July 16, 2014
The Clinical Neurosciences (CNS) unit at LHSC is a 56-bed unit that treats over 200 patients annually for acute stroke. The Canadian best practice recommendations for stroke care indicate that patients should be NPO (nothing-by-mouth) until swallowing is assessed. Unfortunately, scheduling a speech language pathologist (S-LP) to complete a comprehensive swallowing assessment can cause delays in initiating care. This is where the Acute Stroke Dysphagia Screening Tool comes in handy.
The Acute Stroke Dysphagia Screening Tool is quick, valid and reliable. It was a recommendation in the stroke care Quality-Based Procedures handbook from the Ontario's Health System Reform. Over 40 nurses on CNS have completed educational and practical training to achieve certification.
A collaborative team consisting of a speech-language pathologist (S-LP), physician, resident, stroke educator and coordinator, clinical educator, and nurse practitioner came together to examine the swallow assessment process, best practices and tools available, including which tool would work best at LHSC.
The screening tool provides safer, better patient care through a standardized, evidence-based approach to stroke care, allows low risk patients to eat and drink sooner, and conserves S-LP resources for the patients who need it most.
"The tool is really about the patient getting the right service in a timely manner," explains Penney Letsos, S-LP.
60% of stroke patients have swallowing issues. Many of these patients are at risk for aspiration, and the screen allows nurses to decide if the patient can be given food or drink. The screening tool evaluates patients on the Glasgow Coma Scale (grading eye opening, verbal and motor response), assesses facial, tongue, and palatal asymmetry and weakness, and looks for specific signs of aspiration while drinking water. The patient must pass each section of the screen to move onto the next, and if they do not, the nurse knows they must remain NPO, and an S-LP will be called to perform a clinical swallowing assessment.
 "Being certified on this tool is an empowering opportunity for nurses. It allows them to make good clinical decisions around swallowing," says Lynda Ryall-Henke, clinical educator for CNS.
The screen was implemented in May 2013, and now a year later performing the screen is part of everyday best practice in CNS.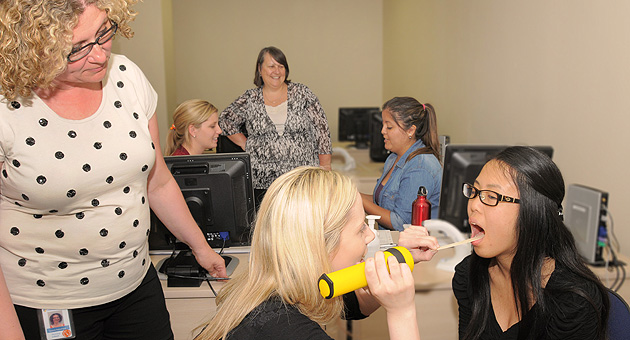 Penney Letsos (left), and Lynda Ryall-Henke (centre back) lead a training session for the stroke screening tool.
This is only one of the over 130 initiatives that have grown out of CQI councils, established by Professional Scholarly Practice to empower front-line staff through shared governance models and the implementation and actualization of Continuous Quality Improvement (CQI) throughout the organization.  
The CQI councils enable staff at the point of care, who have the specific knowledge of the issues and the solutions, to implement the changes necessary to increase the quality and safety of care delivery.