Patient's nomination wins LHSC nursing team award for excellence in care
June 21, 2013
When London Health Sciences Centre (LHSC) patient Diane Bates sat down to prepare her nomination letter for the 'Nurse of the Year' award for the Myasthenia Gravis Foundation of America, there was simply no way she could nominate just one of the 'angels' who have cared for her since her diagnosis in 2010. So she decided to nominate them all!
Myasthenia Gravis (MG) is a rare neurological disorder, characterized by muscles weakness, drooping eyelids, double vision and difficulty in chewing and swallowing, among other troubling symptoms. Because this disorder isn't common, there is little attention paid to it in standard nursing curriculum. For the nurses on the inpatient neurology ward at University Hospital (UH), this has meant that much of their understanding of the disorder has been learned hands-on, with teamwork and collaboration playing a key role in identifying and caring for patients' unique needs.
Bates has been living with MG since 2010, and recently spent six months in hospital with complications from the condition. In her nomination letter she wrote, "It is said that angels come in various shapes and sizes. The nurses on the seventh floor of LHSC's University Hospital are just that – angels! They went above and beyond, showing compassion and exceptional caring, making me feel as though I was the only patient they had to tend to, and encouraging me every step of the was that life is worth living."
Today – which happens to be National Neurosciences Nurses day – these seventh floor 'angels' were surprised when they learned that not only did Bates nominate them for the 'Nurse of the Year' honour, but that in fact, they won the award. Bates, along with Wilma Koopman, a nurse practitioner in the Neuromuscular Clinic (and the only other Canadian to ever win this honour) presented the team with their award statue at a reception held on the neuroscience ward, thanking them for their commitment and dedication to supporting MG patients and their loved ones.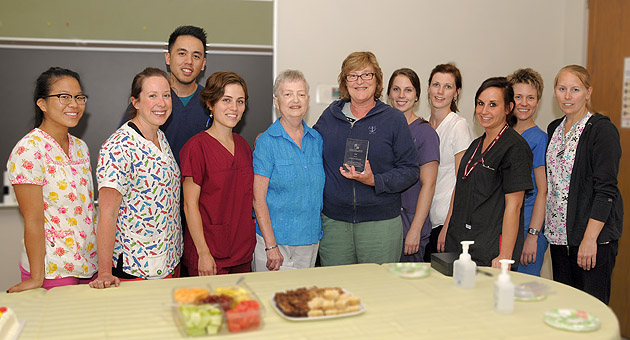 "It is wonderful to see this team of neuroscience nurses nominated for an international award by not only one of their peers, but also a patient who wanted to ensure they were recognized for the exceptional care she received from them," said Bonnie Adamson, LHSC President and CEO. "Myasthenia Gravis is a complex condition which presents challenges as unique as the patients themselves. This award recognizes the care, concern and commitment exhibited by each member of this team in ensuring patients are receiving the best and most appropriate care available."
Said Bates, "I have nothing but praise for these nurses. They look at each person as a valued individual with a condition that can be assisted back to good health. It takes more than book knowledge to restore life in a human being. These angels exemplify that philosophy."
See more photos of the "Seventh Floor Angels" on LHSC's Facebook page.
Note – June is International Myasthenia Gravis Awareness Month.