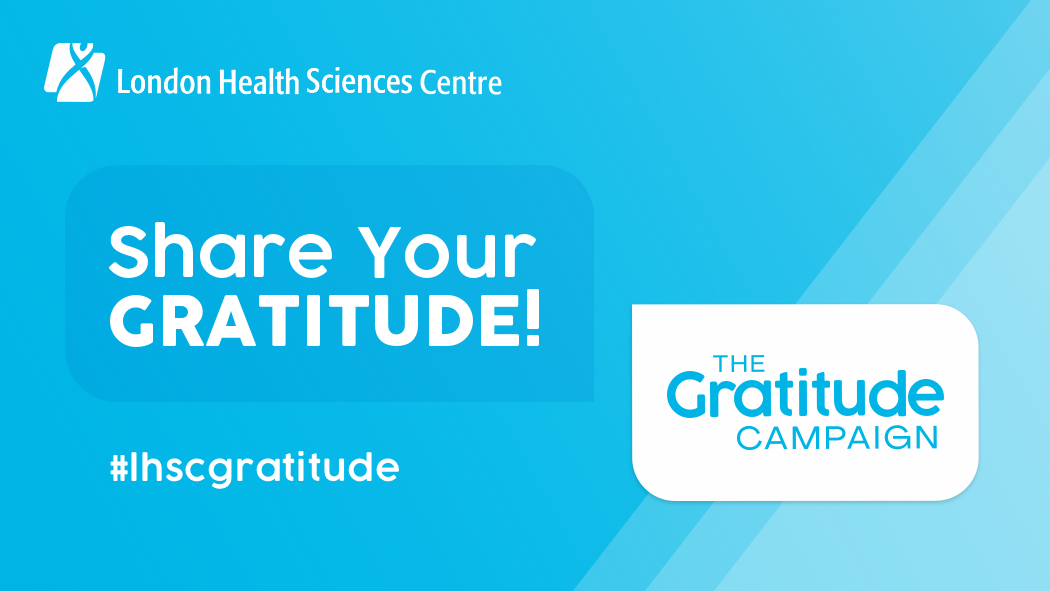 October 13, 2020
LHSC's President and CEO Dr. Paul Woods is pleased to introduce The Gratitude Campaign, a new and exciting opportunity for our community to join LHSC in sharing our gratitude for each other and all we have accomplished together throughout 2020.
Until Nov. 13, we invite our community to share your messages of gratitude and appreciation for the efforts of LHSC's dedicated staff, physicians, researchers, volunteers, and learners throughout the COVID-19 pandemic. Your messages will join those of LHSC's people as they also share their own gratitude with each other throughout the campaign.
Share your gratitude online – post a message, photo, drawing, or short video illustrating your gratitude for our people to your social media using the hashtag #LHSCGratitude. Don't have social media? Just e-mail directly to LHSCgratitude@lhsc.on.ca.
Follow LHSC's social media channels and each #ThankfulThursday, view the updated Gratitude Campagn album which will highlight all of the submissions from staff and our community.
Facebook: https://www.facebook.com/LHSCCanada/
Instagram: https://www.instagram.com/lhsccanada/
Twitter: https://twitter.com/LHSCCanada
Campaign guidelines:
Submit photos, videos, drawings or messages of gratitude, support, or encouragement for LHSC between Oct. 13 and Nov. 13 using the hashtag #LHSCGratitude
You must be the copyright owner of any submission (images taken from the internet or owner without permission will not be included)
Make sure your post is set to public so that it can be viewed by LHSC Corporate Communications and Public Relations
If preferred, rather than posting to social media, please send submission to LHSCgratitude@lhsc.on.ca
Written messages should be 100 words or less, videos should be 60 seconds or less
All entries will be reviewed for appropriateness before posting to the Gratitude Campaign album on LHSC's corporate Facebook
Your public posting and use of the #LHSCGratitude hashtag on Facebook, Twitter or Instagram or your e-mail submission is your permission for the photo, video or message to appear in the Gratitude Campaign album and in any of LHSC's web-related communications including social media, intranet, internal staff newsletter or LHSC's holiday e-card
Please post or submit your entry by Nov. 13 at 12:00 noon to be included in the campaign.