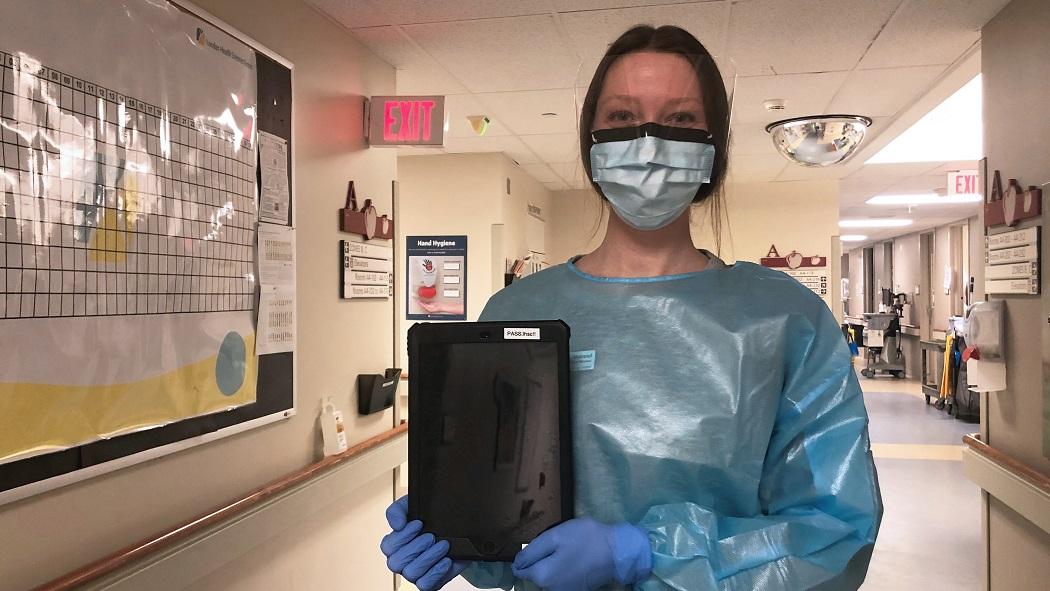 March 2, 2021
When Mairead O'Rourke began her career in hospital social work, she did not anticipate the challenges of a global pandemic and the creative ways in which she and her colleagues would adapt.
"It's been a big shift," explains Mairead, a social worker at London Health Sciences Centre (LHSC). "Prior to the pandemic, we were seeing patients and families face-to-face while now a lot of that has shifted to virtual methods."
Social workers at LHSC are valued team members who support the social and emotional needs of patients and their families. As licensed professionals, social workers provide emotional support, counselling, advocacy and information as patients and families cope with the challenges brought on by illness. This includes supporting patients and families with decision-making, communication with their health-care team and planning for hospital discharge. As part of their role, social workers also help patients and families to access community supports like housing or financial assistance.
"Through assessments, social workers look at the holistic functioning of patients and their families. Social workers recognize that health and wellbeing are closely connected, and that they include factors like social supports, employment and housing," says Tammy Fisher, manager of Social Work & Spiritual Care at LHSC. "We look at the full human experience and identify resources unique to each person."
When the COVID-19 pandemic was declared in March 2020 and visitor restrictions were implemented at LHSC, social workers began collaborating on creative solutions.
"Our social workers normally meet patients and families in-person to provide support. With pandemic restrictions, this is not always possible with outpatients nor with family members of inpatients," notes Tammy. "Our teams had to get creative in adapting to virtual care platforms to engage patients and families at home. In collaboration with LHSC's Patient Experience team, we partnered on the delivery of a program that allows families to be virtually present at a patient's bedside using iPads."
The virtual program has been particularly important for those COVID-19 patients who are palliative. Due to high risk of transmission, there are unique visitor restrictions for COVID-19 patients. Early in the pandemic, they were unable to have any visitors without exception, even at end-of-life. Social workers provided support during these difficult times by facilitating video calls with family members and supporting patients as they passed away. They also provided grief and loss support to families.
"It definitely takes an emotional toll. You're going in and you're having quite an intimate moment with the patient and their family, often holding the patient's hand or shoulder," reflects Mairead. "But it's also pretty special to be that person. You know these families would do anything to be there with their loved ones and you're the one chosen to be present with them."
For Mairead, one of the most difficult points in the pandemic was during November 2020's COVID-19 outbreaks at LHSC's University Hospital where she works on the 4 Inpatient Medicine Unit (4IP).
"It was something I never thought I would experience when I decided to go into social work. We were all on workplace isolation, so the only people we had face-to-face communication with were our colleagues and patients," says Mairead. "During the outbreak, 4IP really came together as a community of
colleagues that supported each other. It was not an easy time and I am very grateful for my colleagues and their support."
As the pandemic continues, LHSC's social workers remain committed to providing quality support to patients and their families, adapting as needed.
"I am so incredibly proud of the Social Work team and their work over the past year," notes Tammy. "Patients and families have been so thankful for our social workers, especially families who know their loved ones were supported when they couldn't be present."
"My biggest takeaways from this pandemic – the parts I'll really remember – are being there for patients in palliative care and helping them say goodbye to their family. It's something I'll take away from this and remember forever, for sure," says Mairead.