A Multi-disciplinary team comes together to ensure the best care for Critically Ill OB patients
February 15, 2013
When a pregnant woman is brought into the Critical Care Trauma Centre (CCTC), the team providing her care immediately has two (or more) patients to worry about. "A critically ill pregnant mom is not anyone's comfort zone," says Brenda Morgan, Clinical Nurse Specialist, who has worked in CCTC for the past 33 years.
That is why in 2009, in preparation for H1N1 and following a sentinel event, the Critical Care Obstetrics Task Force (CCOB) was struck to develop response plans for the care of the pregnant patient in CCTC, including the development of a  Code OB. Team members from CCTC, Obstetrics (OB), Paediatric Critical Care Unit (PCCU), Obstetrical Anaesthesia and the LHSC Resuscitation Committee developed strategies that included admission checklists with team member notification, guidelines for nursing care, maternal and neonatal resuscitation plans and coordination of birth and neonatal resuscitation equipment to support the care of a critically ill  pregnant woman and baby (babies).
The Code OB is an organized response for a maternal emergency. This code only applies to a woman who is in the second half of her pregnancy and has a life-threatening emergency that may require an urgent birth/Caesarean section and neonatal resuscitation. "The goal of the Code OB team was to make a difference in the outcomes of these cases by quickly bringing the right people together to care for these moms and babies," says Karen Laidlaw, Clinical Educator, PCCU and Code OB committee member. One catalyst for standardizing the emergency response was the cardiac arrest of a pregnant woman within 30-minutes of her admission. Her care team was successfully able to resuscitate her and deliver her baby within two-minutes of her cardiac arrest; however, it was not without challenges. This case was instrumental in developing both the Code OB and the admission strategies in CCTC.
With the consolidation of the Perinatal program across London and the anticipated rise in the number of obstetrical cases, the committee and its focus expanded in 2011. Team members from Neonatal Intensive Care Unit (NICU), Obstetrical Care Unit (OBCU), Mother Baby Care Unit (MBCU), lactation consultants and social workers from the perinatal program joined the CCOB.
A number of collaborative multidisciplinary initiatives have emerged from this CCOB quality project including:
Women identified at high risk who need critical care support such as those with cardiac conditions now have plans developed that include the Critical Care Outreach Team (CCOT) and CCTC.

Critical care support is provided in the location that is most appropriate for the woman. CCTC staff work along-side OBCU staff when high risk women are in labour, and OBCU, MBCU, NICU and lactation consultants bring their expertise to CCTC when an obstetrical patient requires CCTC admission for any reason.  Guidelines that outline the various ways that critical care support can be provided before, during and after birth have been developed.

Upon the admission of a pregnant patient to CCTC, PCCU provides neonatal resuscitation equipment in a bedside adjacent to the woman's room that has been assigned for potential neonatal resuscitation.

NICU is notified upon the admission of the patient to ensure regular assessment by their emergency response team.

In the event of a Code OB, PCCU (located across the hall from CCTC) provides the initial neonatal emergency response team; this responsibility is transferred to NICU upon their arrival.

A multidisciplinary planning meeting is conducted upon the admission of a pregnant patient to CCTC. All teams involved in the care of the mother and baby are included.

Checklists and nursing care guidelines for the care of the post-partum patient have been implemented.

Lactation and MBCU nurses support colleagues in CCTC to optimize post-partum care and to support breast feeding upon admission.
In the fall of 2011, the CCOB team offered four-hour education sessions on the care of the critically ill obstetrical patient that were attended by over 235 healthcare professionals from all perinatal, critical care and emergency departments. This program demonstrated the tremendous collaboration that is required to ensure patient care excellence for this challenging population.
The CCOB teamhas engaged the expertise and dedication of the many health professionals who work in CCTC, OBCU, MBCU, PCCU, NICU and lactation consultation. Each case is reviewed with recommendations implemented on an ongoing basis. It is an ongoing collaborative effort to ensure best practice through the pooling of expertise in the care of these complex patients. It came from many individuals who recognized that this was a complex project, and needed to happen on a big scale in order to be successful.
"A unique client population means we have to meet and plan care for women and infants during pregnancy, labour, birth and postpartum especially those with very complex needs," says Nancy Watts, Clinical Nurse Specialist, Women's Care program, a key participant on the CCOB. "It is so beneficial to have emergency and specialized services within our hospital so that if women need this support, it is available to them. 
"When we have a pregnant patient or a post-partum patient, everyone rallies to ensure the patient is getting the best care," says Brenda Morgan. "That's why it was so important to bring all the right people to the table and modify our approach based on careful thought. This initiative has truly been silo-busting.
The work of this committee has been submitted as an abstract to the Canadian Association of Critical Care Nurses annual conference in Halifax in November, and will be presented at the Canadian Association of Perinatal and Women's Health Nurses Conference (CAPWHN) in November in Niagara Falls.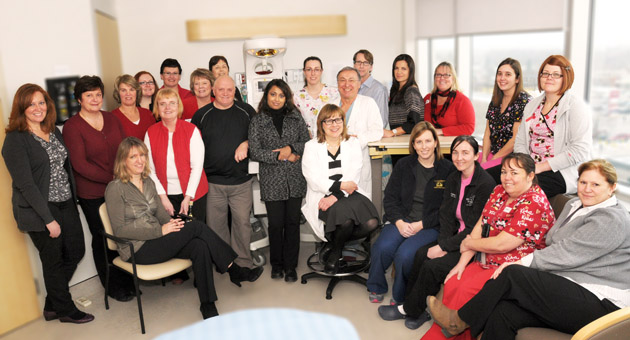 Many of those involved in the patient care initiative for critically ill OB patients gather in one of LHSC's birthing rooms in Zone B, Victoria Hospital.
Pictured: Kristin Barnier, Magaret Belliveau, Cari Buckingham, Barbra de Vrijer, Kalely Gleeson, Jasna Gole, Rob Gratton, Kim Grey, Kendrah Krouskos, Karen Laidlaw, Amy Makish, Deanna Masterson, Meghan McIntyre, Rusty McRae, Brenda Morgan, Renato Natale , Alison Rowlands, Donna Pletsch, Mithu Sen, Marian Spitters, Myron Steinmann, Nancy Watts and Kathy Woodrich.
Not pictured: Michelle Angelini, Carol Baker, Melissa Christmas and Sandra Katsiris.