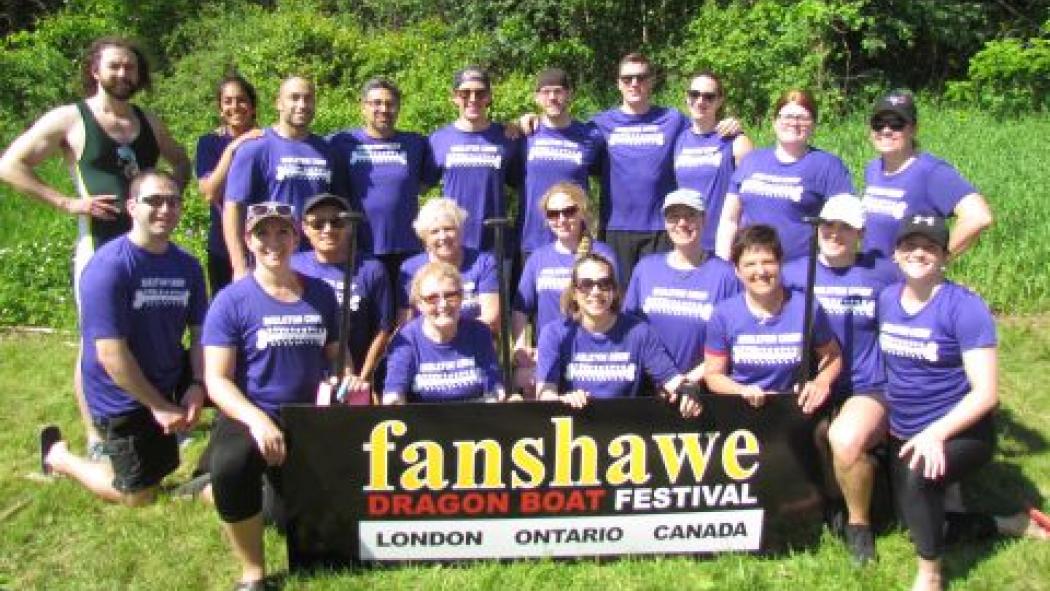 Skeleton Crew celebrates their win of the 2019 Health Care Cup at Fanshawe Dragon Boat Festival.
The Fanshawe Dragon Boat Festival, hosted by Rowbust who are celebrating their 20th anniversary in 2019, was held June 8 and 9, 2019 at Fanshawe Lake in Fanshawe Conservation Area. Rowbust is a local dragon boat team comprised of all breast cancer survivors, including many employees of London Health Sciences Centre (LHSC). The team trains year-round, six months on the water at Fanshawe Lake and six months indoors at Movati Athletic.
The Fanshawe Dragon Boat Festival, which promotes fun, fitness and fundraising, had 64 community teams participate this year, including six hospital teams with about 150 employees from LHSC.
Hospital teams are:
Indecent X-posure (Radiology/Diagnostic Imaging at UH)
Skeleton Crew (Orthopaedic Clinic VH)
Lifesavers (Acute Medicine at UH)
Baby Got Back Stroke (Obstetrics/ Delivery Room VH)
In-Vit-Rowers (Fertility Clinic VH)
The Tumornators (5th Floor - Thoracics, Plastics, ENT, Urology, at VH)
Congratulations to Skeleton Crew, the first-time winners of the 2019 Health Care Cup, who work in Orthopaedic Clinic at Victoria Hospital. This team is led by event co-chair Linda Kuska, registered nurse in ambulatory care, who is the Rowbust team captain and a founding member, and co-chair of Fanshawe Dragon Boat Festival.
Many participants raise money in support of the London Regional Cancer Program and the ACT Now Patient Assistance Fund, collecting over $23,000 this year, bringing the total to just over $100,000 in the last seven years. This fund helps patients access the necessary treatments they need which aren't covered by OHIP or benefits.