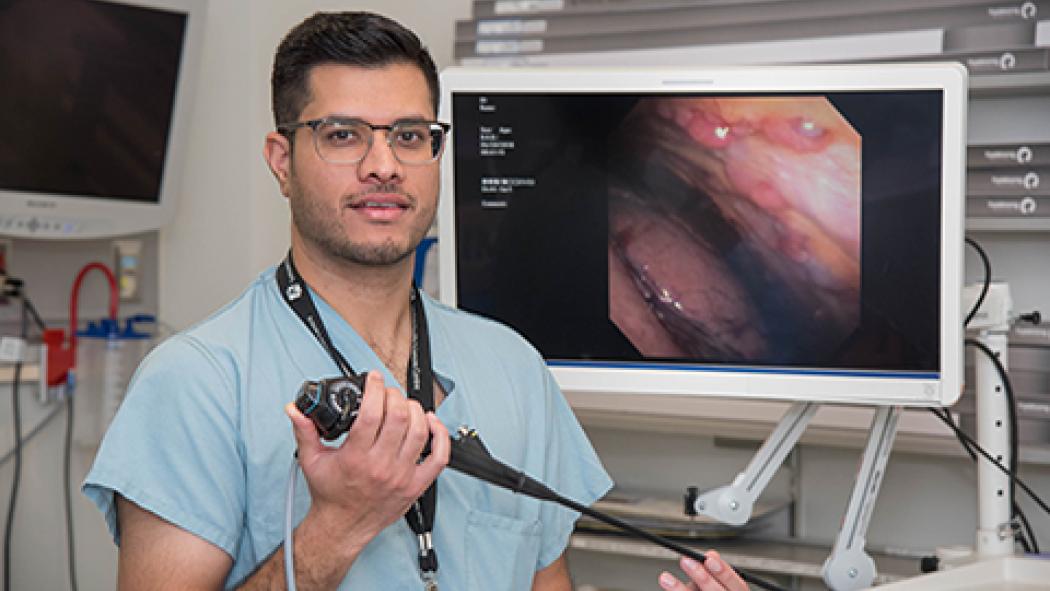 In May, the thoracic surgery and interventional pulmonology teams at London Health Sciences Centre (LHSC) began to deliver a specialized therapeutic and diagnostic procedure for particular cancers in an outpatient setting, eliminating the need for patients to undergo a more invasive operation and subsequent hospital stay.
For patients with certain types of cancer that may be spreading around the lung, video-assisted thoracic surgery (VATS) has traditionally been performed to diagnose and stage patients with malignant pleural effusion. This surgical procedure would be completed in an operating room with the patient under general anaesthetic and typically followed with a six-day average stay in hospital. With the purchase of a semi-rigid pleuroscope, patients at LHSC are now able to have the same procedure done in a minimally-invasive format and return home later the same day.
"You can't underestimate what it means to patients to be able to have the procedure done in an outpatient setting that allows them to go home with a lot less down time," says Dr. Inderdeep Dhaliwal, Respirologist, LHSC. "With many of these patients facing difficult or even terminal diagnoses any opportunity to add to quality of life is all the more significant and with the availability of outpatient pleuroscopy we are doing just that."
Another important benefit of moving to an outpatient setting is with respect to patient safety, as they are not exposed to general anesthesia or mechanical ventilation as conscious sedation is used instead. A small incision through the patient's rib is made to complete the entire procedure, which may include biopsies and the removal of small tumours and excess fluid from the chest.
For the hospital, moving these procedures to the endoscopy suite provides a number of benefits. It frees up important operating room (OR) time, requires fewer resources and staff to do the procedure, and removes the need for an inpatient bed, helping to reduce costs and improve access for other patients.
Historically, LHSC has completed an average of 45 cases per year in the OR and while some patients will still receive the conventional VATS pleuroscopy due to the complex nature of their particular case, the teams are planning to move all appropriate patient cases to the endoscopy suite moving forward. To date, LHSC has done about one case per week in the outpatient setting and most patients continue to be booked within two weeks as they had been in the previous OR-environment.
The purchase of the semi-rigid pleuroscope was made possible thanks to donors from the London Health Sciences Foundation.
"This was one area where we knew technological advances would have a significant impact for patients and families, and we're grateful for the support of the hospital and the generosity of our Foundation to make this a reality," notes Dr. Dhaliwal. "Moving malignant pleural effusion to the endoscopy suite is a great example of one of the many ways that LHSC is putting patients at the centre of everything we do as we deliver safe, high-quality care in the most appropriate setting."