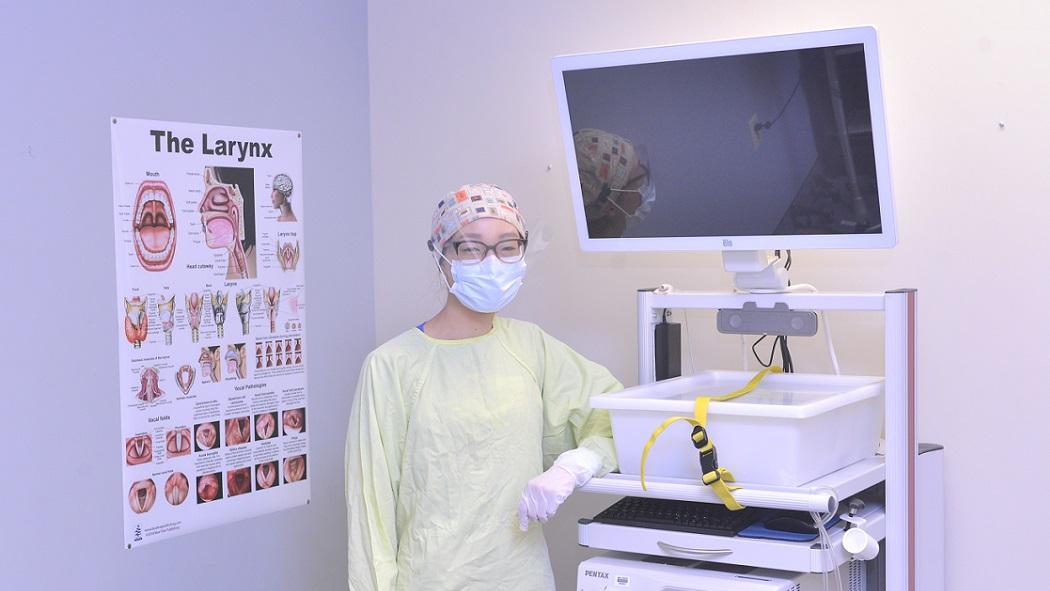 Allison Chen is a Speech-Language Pathologist at LHSC.
December 16, 2020
Patients with COVID-19 can experience a number of negative symptoms that can inhibit their ability to speak or swallow and London Health Sciences Centre's (LHSC) team of 15 Speech-Language Pathologists (S-LPs) have been caring for them throughout the pandemic. S-LPs provide specialized swallowing, speech, language, and voice services to medically-complex patients in the acute care setting and in outpatient clinics at LHSC.
In addition to COVID-19 patients, S-LPs work with patients with a variety of medical conditions, including and not limited to neurological disorders, such as ALS, Parkinson's disease, and dementia, strokes, traumatic brain injuries, as well as head and neck cancer, and trauma. The S-LPs work closely with the health-care teams to improve patient outcomes, reduce hospital re-admissions, and determine rehabilitation candidacy and options.
For Allison Chen, a Speech-Language Pathologist with LHSC, the beginning of COVID-19 was a time of uncertainty and a constantly changing information landscape. "As S-LPs, we get up close and personal with patients since communication and swallowing disorders involve the mouth, nose, and throat. We immediately had to modify our practice and quickly learn and keep up to date on frequently changing recommendations to protect ourselves and our patients.," Chen says.
Amanda Degen McLarty, Manager of Speech-Language Pathology at LHSC commends the team for its commitment to ensure the safety of patients and themselves during COVID-19. "The team worked with Infection Prevention and Control (IPAC) to review profession-specific questions related to the assessment and management of patients suspected or positive with COVID-19 to ensure the clinicians had the correct information to provide safe and informed care," she says.
Patients who have been intubated on mechanical ventilation for a period of time, including those with COVID-19, can experience dysphagia, a disorder in eating, drinking, and swallowing, which increases their risk for aspiration. Aspiration occurs when food, drink, or secretions enter the airway and lungs instead of the esophagus. This can lead to aspiration pneumonias which can be fatal. S-LPs help these patients manage both short-term and long-term dysphagia emphasizing both their safety as well as their quality of life.
Changes to the ability to swallow or communicate have a big impact on quality of life. Difficulties with eating, drinking, and swallowing can lead to safety concerns of aspiration and airway obstruction, as well as increased feelings of isolation and embarrassment as it affects patients' abilities to socialize with loved ones. The ability to communicate is also fundamental for patients' abilities to connect with others and have autonomy.
Chen references the emerging research showing COVID-19 patients who have experienced related strokes also experience significant changes to voice, communication, and swallowing. S-LPs are integral to help patients regain their abilities.
The SLPs work with the health-care team to provide the support and care to patients. "Throughout the pandemic what I've noticed is it really is a team effort to ensure patients get the best care," Chen says. "As S-LPs we are doing our part in prioritizing patient safety and quality of life, during this pandemic and always."