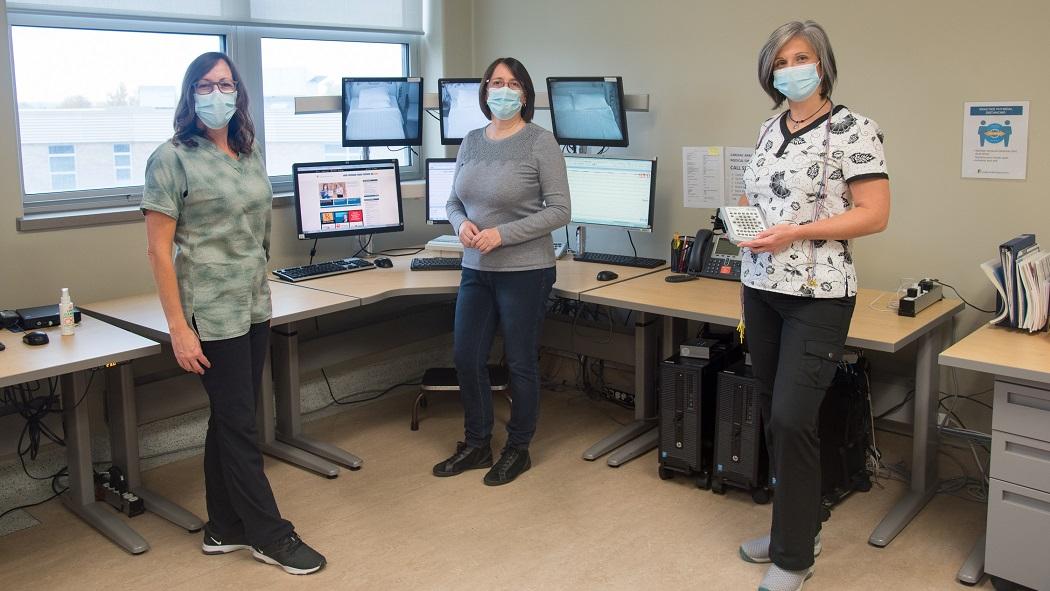 Sleep technologists Christine Bullas, Nina Marinkovic, and Monika Krolikowski help patients in the Sleep and Apnea Assessment Unit at LHSC.
October 27, 2020
Registered Polysomnography Technicians (more commonly known as sleep technologists) at London Health Sciences Centre (LHSC) help patients with various conditions to improve their sleep and health outcomes. Sleep Technologist Appreciation Week (STAW) runs from October 25-31, 2020 and showcases the accomplishments made in the sleep disorders centers, laboratories, and education facilities.
At LHSC, the Sleep and Apnea Assessment Unit (SAAU) operates six days per week, completing nine sleep studies each night. The SAAU provides service to both adult and paediatric patients upon a referral from a respirologist. Patients include those with chronic respiratory conditions, sleep disorders such as obstructive sleep apnea, and patients with conditions not yet diagnosed to help assess illness. This year, we would like to spread an awareness for the work sleep technologists do across LHSC.
Sleep technologists are trained to investigate sleep activity including brain waves, leg muscle, chin muscle tone, eye muscle movement, heart function, breathing pattern, and oxygen saturation via electrodes attached to the scalp. After completing the initial sleep study, sleep technologists spend hours scoring and reviewing 1000+ pages of data from the sleep study. Routine sleep studies to monitor progression of disease are also completed in the SAAU, and close management of these conditions reduces emergency department visits and hospital admissions.
The SAAU is progressing to assess different patient populations, and happy to share that we are beginning to study high risk obese pregnant women, initiating treatment for sleep apnea early on, and improving both mom and baby health outcomes.
Please join the Ambulatory Medicine Leadership team in extending a sincere thank you and spreading awareness for all of the work that the sleep technicians at LHSC do! #STAW2020