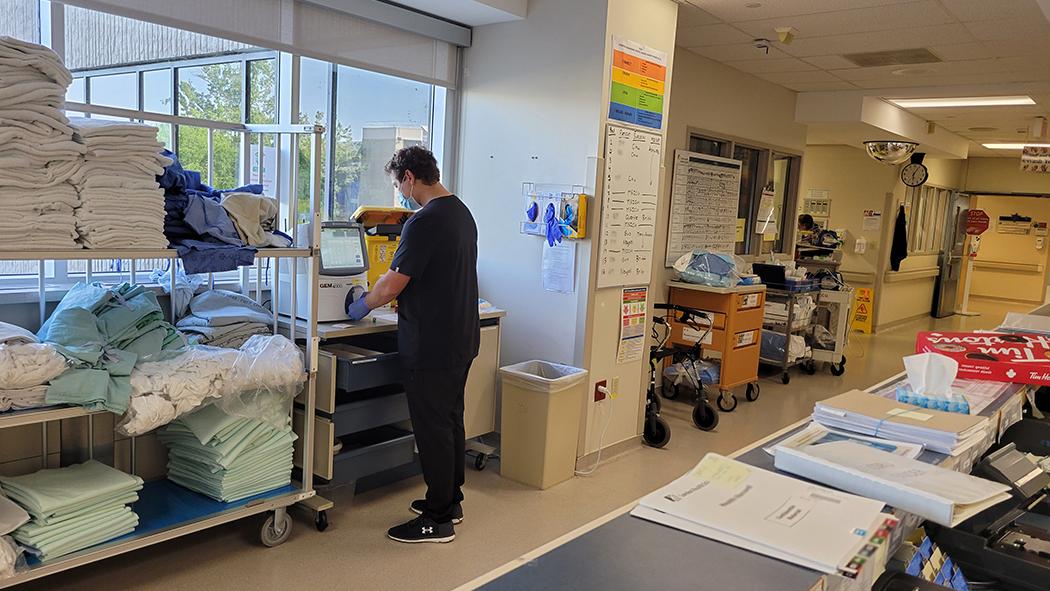 Registered Respiratory Therapist, Christopher Ptak runs blood gases to determine ventilation strategies for patients.
July 2, 2021
The team of respiratory therapists at London Health Sciences Centre (LHSC) has been on the front lines of the COVID-19 pandemic. As they watched the SARS-CoV-2 virus quickly spread across the world, they knew they were going to need more help for the potential surge of patients. In March 2020, over 35 respiratory therapists were hired across LHSC, five times more than would normally be hired in one year.
Allison Oldershaw, Manager of Respiratory Therapy watched in trepidation as the virus spread. "We anticipated a surge in patients coming early on. I knew we needed to on-board respiratory therapists to care for these patients and started the recruitment process in January 2020," says Oldershaw. In March 2020 , the Respiratory Therapy program on-boarded more respiratory therapists within one month than they had over the past five years.
The registered respiratory therapists (RRT) were hired at each site on a contract basis to work in the Intensive Care Unit (ICU) at University Hospital or the Critical Care and Trauma Centre (CCTC) at Victoria Hospital. Some of these contract RRT's came with acute care experience while others had worked previously only in community settings, including homecare and sleep clinics. Adding to these contract employees were recent graduate respiratory therapists (GRT's) whose clinical placements were shortened by six to eight weeks when LHSC cancelled all student placements with the declaration of the pandemic.
RRT's and GRT's required additional training to work independently at LHSC. "Initially we chose to train these new staff only into the critical care unit(s) as we have multiple RRTs assigned and working in these areas at all times," says Oldershaw. "The new hires, including recent graduates, were then always working as part of a team with experienced RRT's fostering a safer and more supportive environment for everyone."
Christopher Ptak was one of the 30 respiratory therapists hired in March 2020 and started in the ICU at University Hospital. He likens starting his career during the pandemic to a rollercoaster. "I was very fortunate to get a position with LHSC that allowed me to help in a time when it was very much needed around the world," Ptak says. "As you can imagine I felt a lot of nervous excitement to be thrown into the respiratory field as a new graduate during this time."
Ptak notes the learning curve he experienced after having been a student to becoming a respiratory therapist dealing with the new challenges from the pandemic. During this time, he credits the support from his coworkers in making the transition more comfortable.
He's already experienced variety in his position.
Shortly after starting in the ICU, Ptak was redeployed to help assist with the swabbing of staff and physicians in the LHSC COVID-19 Assessment Centre at Victoria Hospital. This was different from what he was doing in the ICU. He was retrained to conduct swabbing and worked at both Victoria Hospital
and University Hospital once the outbreak in late 2020 required on-site testing of staff and physicians. "I had to swab some co-workers which made for an interesting situation," says Ptak.
Following this redeployment, Ptak returned to the ICU during the second and third waves. As a new RT, working in the ICU became difficult during this time with the increase in patients. "It was really tough seeing families struggle with the restrictions. We saw a lot of upsetting situations when family members, many of whom also had COVID-19 couldn't be with their loved ones," says Ptak. This was compounded by a sense of frustration in dealing with the disease. "We were constantly battling COVID-19 , but it didn't feel like we were making any ground," he recalls. "There's no direct fix for it."
As a department, the RRT team has adapted their staffing model including the creation of a new respiratory therapy assistant (RTA) position. The RTAs provide 24-hour support to the RRT's helping with the management of patients during the third wave. "This position helps the RRT's perform routine tasks and quality assurance work allowing them more focused time providing care to the critically ill patients across the hospital," says Oldershaw.
Ptak likes having the RTAs in the ICU. "Working with RT assistants during the third wave was good, especially once we started to get large numbers of patients. As RRTs, we frequently have five to six patients each, and sometimes more," he explains. Even as a new RRT, Ptak was appreciative of the additional support to enable him to focus on the ventilation recommendations and even to have time to grab a drink of water.
Looking back, Ptak feels a sense of accomplishment over the past year. "Overall, it has been really rewarding to be able to help out wherever I could whether it was the staff testing center or critical care or the units," he says. The RRTs at LHSC, both new and seasoned are helping ensure patients get the care they need, when and where they need it.