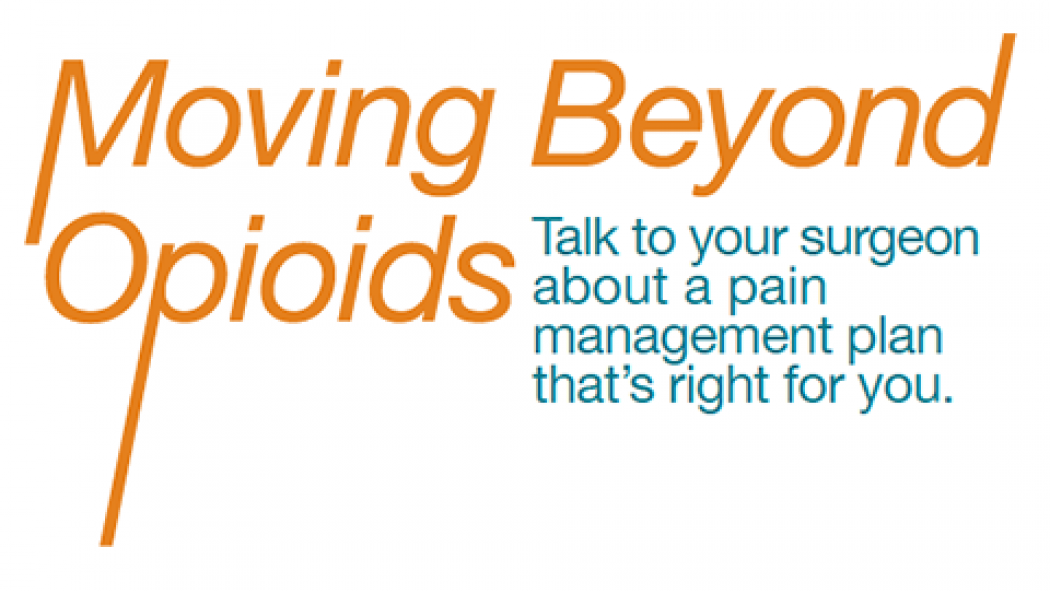 LHSC is part of the Cut the Count campaign to reduce the number of opioid pills we prescribe to surgical patients at discharge, while helping patients manage their pain effectively in other ways.
As a member of the Ontario Surgical Quality Improvement Network of 47 hospitals sites across Ontario, we are working collaboratively to improve the quality of surgical care in their hospitals.
Approximately 80% of patients undergoing surgery in the province will be discharged from a Network member hospital.
In April, LHSC's surgical team along with those in the network hospitals embarked on a quality improvement campaign to help patients manage their pain post-surgery, while cutting the number of opioid pills they prescribe upon discharge.
Why? So there are fewer opioids in the public domain that could potentially be used inappropriately or lead to addiction.
The quality campaign reflects the research conducted here in London.
STOP Narcotics Study
Recognizing the role of opioid over-prescription in the national opioid crisis, a study demonstrating the efficacy of a new clinical protocol called STOP Narcotic was undertaken by the Division of General Surgery, Schulich School of Medicine and Dentistry, and Lawson Health Research Institute, the research institute of LHSC and St. Joseph's Health Care London.
"The objective of the study was to provide adequate pain control, while reducing narcotic use through educating physicians to utilize non-opioid medications along with opioid-reduced prescriptions. We also educated patients what to expect in terms of pain, and how to use non-opioid medications (e.g. Tylenol) and dispose of excess opioids," says Dr. Luke Hartford, general surgery resident at LHSC, who was first author on the study.
"The goal is to limit the reliance on narcotics prescribed, providing the patient with good pain management, while providing the understanding and expectation that there can be some pain."
The STOP Narcotics study enrolled 416 patients who underwent hernia repair. After their surgery they were prescribed meloxicam, a non-steroidal anti-inflammatory drug and instructed to take Tylenol regularly.
The participant further received a prescription of 10 opioid pills with the expectation that they would not fill the prescription unless the other medications were not effective in managing their pain. The prescription also had an expiry date of seven days, after which they could no longer fill it.
Those who did fill their prescriptions where asked to return to the pharmacy any pills they did not use.
Researchers then compared the results of their study group to a control group of patients not in the study.
Study Group

Control Group (patients not in the study)

45 per cent of patients filled their opioid prescription

95 per cent of patients filled their opioid prescription

23 per cent disposed of their excess opioids properly
Seven per cent disposed of their excess opioids properly
Pain level 2.1
On a scale of 1-10 where 10 is the highest

Pain level 2.3
On a scale of 1-10 where 10 is the highest

There was a 50 per cent reduction in the number of opioids being prescribed.
What they found was that reported levels of pain were essentially the same between the study participants and the control group of patients not in the study.
So looking at the results from this study, researchers found that the patient's pain control was just as effective without a significant prescription of opioids.
"We recognized that before STOP Narcotics, every surgeon had a different approach to pain control," says Dr. Ken Leslie, Lawson scientist and Chief of General Surgery at LHSC, who led the implementation of the new protocol.
While this new protocol has been rolled out in General Surgery, Dr. Leslie sees this as something that will be implemented across the services at LHSC.
"This is primary prevention. Patients don't say to the surgeon, 'I'm getting too much medication,'" says Dr. Leslie. "We can keep patients really comfortable without narcotics."
To read more about how LHSC helps stem the tide in the opioid crisis, see Inside LHSC.