November 13, 2014
The fourth installment of "Stories of Illness and Health" was held on October 26 with the purposes of learning, sharing, and enacting change in health care. This event series invites patients to share their experience of illness with students, professionals, and members of the wider London community.  
Stories of Illness and Health addresses the need for stories to be heard and to be told, and to identify and discuss questions that matter to those undergoing an experience of illness. It refocuses attention on the stories people tell of their illness experience and promotes a relational, person-centred approach, pushing beyond diagnosis and treatment to explore how narrative and reflection can enhance the place of the patient experience in educational and clinical life.
Marinette Laureno, a patient recovering from cancer, was one of the patient storytellers and shared the importance of maintaining her identity while undergoing treatment, and of family involvement as part of her health care team.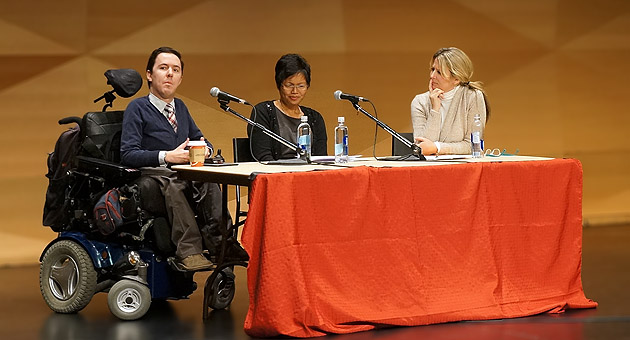 Patient storytellers Jeff Preston and Marinette Laureno with Lisa Hawthornthwaite, Senior Patient Experience Specialist, LHSC.
The second patient storyteller, Jeff Preston, talked about his encounters with abelism and the importance of including patients within the health care team. "I'm hoping that my story helped people to change their perspective on disability and forced them to question their assumptions about disability. Namely, that the core desire is to be cured," says Preston. "My goal was to challenge people's expectations of my life and their own lives, and to question what could be rather than dwelling on what is not. Similarly, I'm hoping my words and ideas inspire others to feel empowered to advocate for themselves within the health care system."
Becoming known as a forum that fosters emotional engagement and rich interpersonal interactions, Stories of Illness and Health is a collaborative event organized by the Narrative Medicine Initiative in the Schulich School of Medicine & Dentistry, the School for Advanced Studies in the Arts and Humanities, Public Humanities at Western University, London Public Library, and the Office of Patient Experience at the London Health Sciences Centre. The event series has been funded in part by the Associated Medical Services' Phoenix Project, a province-wide initiative that seeks to rebalance human compassion and technical expertise in the Canadian health care system.
"I didn't know what to expect when I sat down to hear the stories," says one audience member. "I didn't know I would be moved to tears as Marinette spoke of looking forward to her weekly chemo treatments because her teenage daughter would curl up in the hospital bed beside her and they would have that time together. I didn't know I would be laughing out loud as Jeff told the audience he would recite the front page of the newspaper to his health care providers at the age of five so that they wouldn't think his physical disability was also mental. These real people were raw and vulnerable, articulate and relatable. Sitting and listening opened my eyes to how important it is to understand the patient, when you are trying to understand the disease."
"Hearing the patient stories was a real educational experience for me," another audience member reflects. "Each patient came into the health care system with different needs, one with a condition that began almost at birth and the other with a diagnosis as an adult. Positive interactions were formed from patients being involved in decisions; patients learning how to advocate and make their voices heard; and, a respectful and trusting physician and patient relationship."
The next installment of Stories of Illness and Health will be held at 6:30 pm on March 19, 2015 at Wolf Performance Hall located in the central branch of the London Public Library. Follow @StoriesIH on Twitter for the latest information. If you are interested in speaking at this event as a patient storyteller, please contact Lisa Hawthornthwaite at the Office of Patient Experience at LHSC: Lisa.Hawthornthwaite@lhsc.on.ca.
See more photos from the latest Stories of Illness and Health on LHSC's Facebook page.