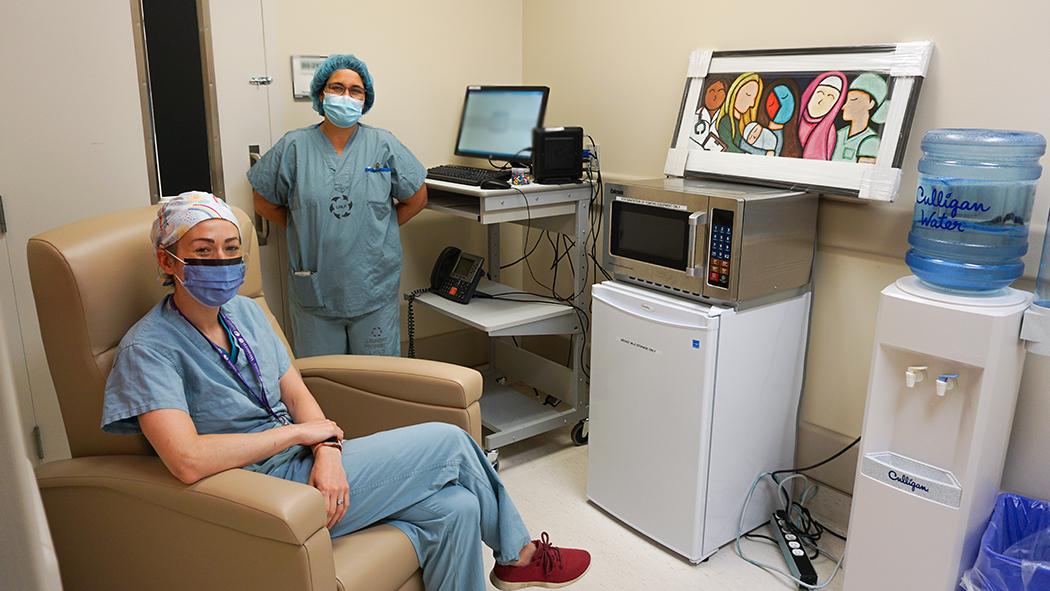 Dr. Elise Graham and Shannon Bilodeau show the newly appointed lactation room in the OR area at LHSC's Victoria Hospital.
October 6, 2021
A team at London Health Sciences Centre (LHSC) Victoria Hospital's Operating Room (OR) is working to make it easier for nursing mothers to return to work. They have repurposed a room in the OR area to be a secure space for mothers to pump and store breastmilk during their shifts. This is part of a trend at LHSC, with various areas including the Emergency Departments at both University Hospital and Victoria Hospital creating lactation rooms for staff and physicians.
"While Canada provides at least a full year of maternity leave, this does mean that we do fall behind the US in providing spaces for nursing mothers to pump breastmilk for those who do not take the full year or choose to pump for longer," Dr. Elise Graham, a paediatric otolaryngologist at LHSC points out. During her work in the OR, she heard there was a need from staff, physicians and learners who were finding it difficult to be able to pump.
Dr. Graham worked with OR Clinical Managers, Shannon Bilodeau and Sarah Lilley to repurpose a hydration room to meet the needs of team members. Dr. Graham points to research in the Canadian Medical Journal highlighting the lack of nursing supports as a systemic issue for women in medicine.
"This is still a very private experience for mothers," explains Lilley. "Having a secure room where they can relax is important for supporting our staff and their growing families."
Dr. Graham, a mother of two young children had her first child while she was in residency in the United States. Maternity leave is much shorter in the US than in Canada, which could explain why, in Graham's experience they have more accommodations for mothers who are still nursing. In the hospital, residents and other learners tend not to take more than three months leave after having a child. Many learners and physicians are still nursing when they return to work in the Operating Room.
Dr. Graham has seen first hand how difficult it can be. "I had a resident who came back after three months and she was really struggling to find space," she explains. Following this, Dr. Graham wrote a letter of request to turn the hydration room in the OR area into a room dedicated for pumping. Cheryl Churcher, Director of Victoria Hospital Surgical Care was supportive and connected her with Bilodeau to make it happen.
It only took two months to go from concept to reality. The area already had a sink, phone, computer so we needed a comfortable chair, microwave, dedicated fridge. Facilities put a fresh coat of paint on the walls and locks on the doors. Additionally, a painting was donated by an artist depicting the support she received from physicians across the country when she struggled with breastfeeding.
For Lilley, this space is making the decision to grow her family easier. "I plan on having a second and this is such a comfort to know it is here if I need it," she says.
Nursing mothers in the OR at Victoria Hospital, and in other areas throughout LHSC have a safe, quiet, private space to pump and they can still get work done using the computer. Dr. Graham is excited for the potential to continue to grow this initiative across the hospital. Another lactation room is already being planned in the OR at University Hospital.