November 8, 2012
This week, 260 grade nine students got an inside look at what a career in health care is really about as they participated in Take Our Kids to Work Day at LHSC.
Students spent much of the day shadowing their parents or hosts, learning the ins and outs of each unique role. Some departments offered tours of their areas, giving students a behind the scenes glimpse at a day in the life of a busy hospital.
"Today, our goal was to ensure an exceptional learning experience for students to gain an appreciation and understanding for the wide range of roles at LHSC to provide the continuum of care for patients," said Kelly Ainge of Student Affairs.
The kids were introduced to A.J. Fordham, who spoke on the subject of injury prevention as he shared his powerful journey of overcoming a severe traumatic brain injury. This impactful story struck a nerve with many students, as witnessed by the large number of questions for Fordham following the presentation. Presentations on career planning and jobs available in health care followed, helping students to understand the wide range of opportunities which exist at LHSC.
Take Our Kids to Work Day gives students a chance to explore future job prospects in health care, while giving LHSC staff the opportunity to showcase what they do and how it impacts the community.
 "As a learning organization, what could be more important than to take the time to teach about the quality, safety and complexity of patient care delivery? What a wonderful opportunity for students and staff alike - to support young learners while highlighting our extraordinary staff and their commitment to our community," said Dr. Vanessa Burkoski, VP, Professional Practice and CNE.
As an acute care teaching hospital, Take Our Kids to Work Day is an extension of our commitment to life-long learning and education. Thank you to all who took part in making this day successful, and helping our kids learn how important the work that is done at LHSC truly is!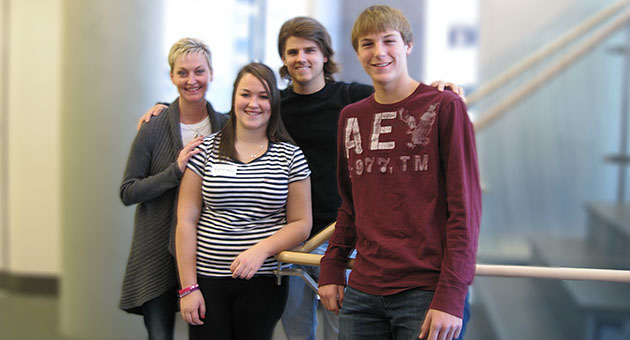 Barb McMillan (E.D. Nurse), Kennedy Noonan (student), A.J. Fordham (guest speaker), Gavin Geurtjins (student)