The Fanshawe Dragon Boat Festival, hosted by Rowbust, was held on June 9 at Fanshawe Lake in Fanshawe Conservation Area. This day-long event promoting fun, fitness and fundraising had 52 community teams participate this year, including 10 hospital teams with about 250 employees from London Health Sciences Centre (LHSC) and St. Joseph's Health Care London (St. Joseph's). 
Hospital teams are:
Tip'n'it
Indecent X-posure
Remission Possible
Forewaters
Skeleton Crew
Just Stroke it
Team XOXOXO
Phlegmish Vikings
Lifesavers
Ivey Eye Candy
Congratulations to Team XOXOXO, the first-time winners of the 2018 Health Care Cup, who work in Urgent Care at St. Joseph's. This team has been involved as participants for many years, and row in dedication of their co-worker, a nurse who passed away from breast cancer.
Other health care team winners include Phlegmish Vikings (E Division Champions), Lifesavers (B Division Consolation Champions), and Skeleton Crew (B Division Champions). Many participants raise money in support of the London Regional Cancer Program and the ACT Now Patient Assistance Fund, collecting $18,000 this year, and $58,000 in the last six years.
Rowbust is a local dragon boat team comprised of all breast cancer survivors, including many employees of London Health Sciences Centre. The team trains year-round, six months on the water at Fanshawe Lake and six months indoors at Movati Athletic. Rowbust also trains all the participating community teams in the two weeks leading up to the Fanshawe Dragon Boat Festival, and then supports them on race day by coaching them through their races.
Rowbust, who organizes and hosts this event, are heading to Italy and Hungary in July. One crew will be in the International Participatory Festival in Florence, Italy, in which 100 breast cancer survivor dragon boat teams from all over the world will participate in this non-competitive event (July 6-8) The other crew will travel to the Club Crew World Championships in Szeged, Hungary to defend their World title for a third time (July 16-22). Good luck, Rowbust!
"London and our local community have been so good to Rowbust over the past 19 years and we love to 'give back' through the festival. Our vision was to make this a true community event, to have fun, get some exercise, do some team building, and enjoy our beautiful Fanshawe Lake. I think we have accomplished that," says Linda Kuska, registered nurse in ambulatory care, who is the Rowbust team captain and a founding member, and co-chair of Fanshawe Dragon Boat Festival.
Next year is Rowbust's 20th anniversary, and the Fanshawe Dragon Boat Festival will be even more of a celebration of life! Rowbust hopes everyone will join in the 2019 celebration.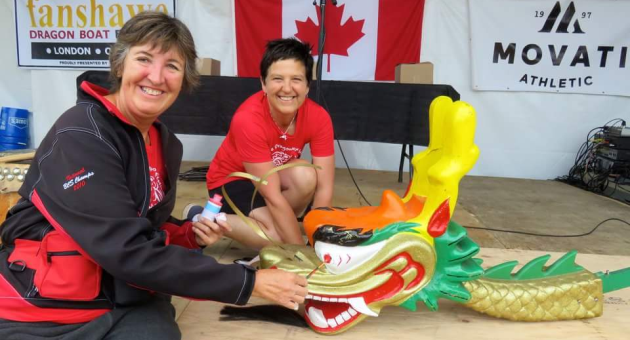 Fanshawe Dragon Boat Festival co-chairs Loraine Warnock (left) and Linda Kuska at the Dotting of the Eye ceremony, which signifies the start of a good day of racing.