February 22, 2013
With support from the CN Stronger Communities Fund, Children's Hospital at London Health Sciences Centre's (LHSC) Trauma Program is able to implement a Classroom Communication System (CCS) within the existing injury prevention programs.
CCS will be used to increase student learning while acquiring important information on attitudes, perceptions, knowledge and behaviours. As a part of CCS, 'Clicker Technology' will be used in focus group testing with students and community stakeholders to redesign IMPACT (Impaired Minds Produce Actions Causing Trauma), a cornerstone trauma program. 
"With the focus testing we will be able to gear our presentations to the specific issues facing teens in our region and attempt to answer questions and concerns and affect their behaviours," says Jane Harrington, injury prevention specialist, LHSC. "This is an innovative approach that engages participants, is beneficial to overall learning and is a best-practice, proven tool.
IMPACT focuses on discussing poor choices and high risk behaviour that can lead to injury situations with teens and teaching them how to make better decisions. IMPACT reaches close to 4,000 high school students in London and region every year.
 "We are excited about this technology. It will change how we interact with students and direct our prevention message to the community", Dr. Neil Merritt, Associate Paediatric Medical Director, LHSC.
"We plan to incorporate this technology into the planning, design, implementation, evaluation and research of our current and future programs," adds Harrington.
The CN Stronger Communities Fund contributes to organizations, programs and initiatives that:
Prevent childhood injuries; and
Promote healthy lifestyles for our youth.
CN also supports children's hospitals in order to fight childhood diseases and save the lives of children.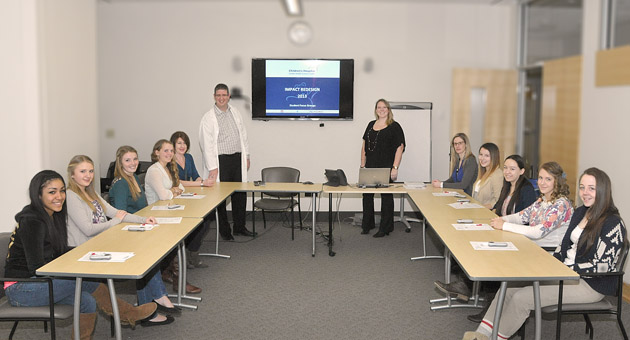 From Left, Dr. Neil Merritt, Associate Paediatric Medical Director, LHSC and Jane Harrington, injury prevention specialist, LHSC meet with high school students to redesign the IMPACT program at LHSC. More photos on LHSC's Facebook page.