May 8, 2013
On May 3, London's emergency preparedness plans were put to the test during a simulated mass casualty exercise. The exercise was part of Project PREPARE 2013, an education conference, workshop and large full-scale mass casualty exercise to train emergency service personnel, hospital staff and students in the fundamentals of "Preparation, Readiness, Education, Planning, Action, Recovery and Evaluation" of Chemical, Biological, Radiological, Nuclear and Explosive (CBRNE) incidents.
London Health Sciences Centre Southwest Ontario Regional Base Hospital Program (SWORBHP) in partnership with Fanshawe College and the CBRNe Collaborative hosted the conference that included an Advanced HazMat Life Support Course as well as a practical training day with various tracks including Incident Management System (IMS), patient decontamination, and family integration and support.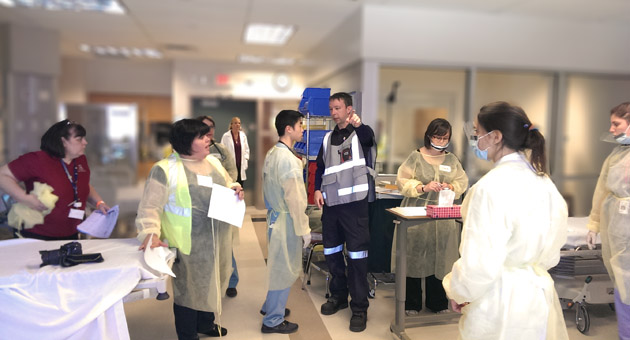 See more photos from Project PREPARE 2013 on LHSC's Facebook page.
The exercise scenario simulated an accident involving chemical truck and a school bus. The overturned vehicles came to rest on a soccer field with 100 people on or in the vicinity of the accident.  The truck was carrying chemicals and several 55 gallon closed top steel drums fell out of the truck and spilled an unknown liquid and powder. Soccer players and spectators immediately rushed to the accident scene. Instantly there were fatalities and multiple casualties.
A total of over 400 participants were involved in the exercise. Approximately 50 "first responders" attended the incident site, approximately 30 hospital staff managed "Fanshawe Hospital", and at least 30 Fanshawe College staff were involved in the Incident Site and EOC Management.  At least 150 patient volunteers were triaged and treated due to motor vehicle accident injuries and various levels of chemical agent exposure.
"We used the medical simulation labs at Fanshawe College to simulate the emergency department and other care areas at LHSC," says Dr. Michael Peddle, local medical director, SWORBHP and medical director, LHSC CBRNe Program. "The goal of the exercise was to implement the current procedures and plans of the agencies and organizations involved in responding to mass casualty events in our community. This allows us to practice and review our response to a realistic event but in a safe and controlled environment."
The exercise utilized Fanshawe College staff, students and community volunteers as well as approximately 25 LHSC staff who volunteered their time and expertise. Conference participants worked alongside Western University emergency medicine residents as well as Fanshawe College students from various programs such as Emergency Management, Emergency Telecommunications, Nursing, Paramedic, Police Foundations and Respiratory Therapy.
Other community partners involved in the exercise included Middlesex London Emergency Medical Services (EMS), St Thomas/Elgin EMS, London Fire Department, London Police Services, Central Ambulance Communications Centre, Middlesex-London Health Unit, and the City of London.
"As a hospital, events like this allow us to review our preparedness and plans and evaluate their implementation in response to a mass casualty event," continues Peddle.  "Lessons learned today allow us to make positive changes to how we respond to future events."