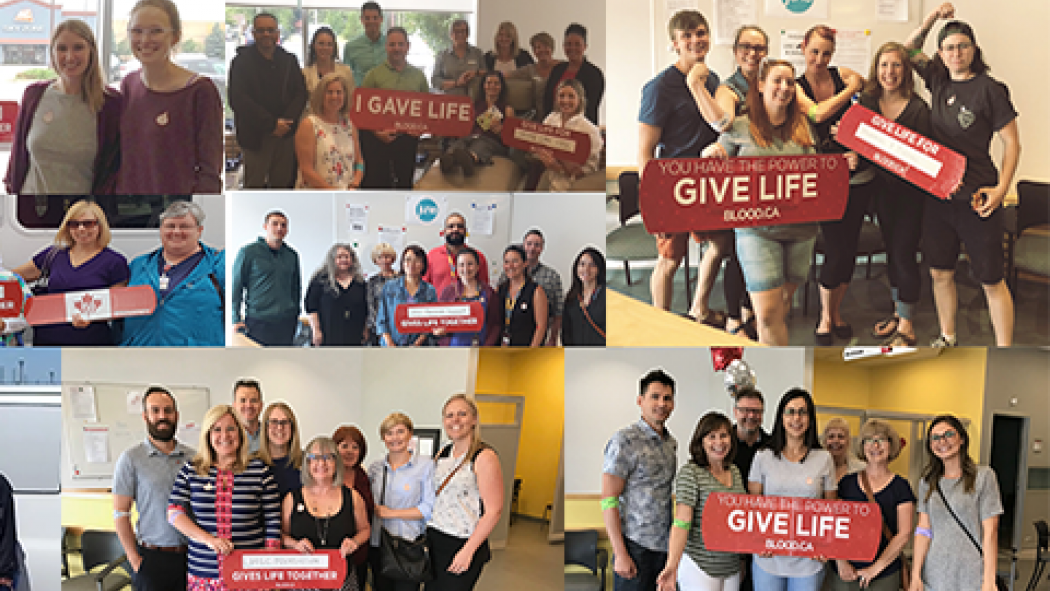 July 16, 2019
Throughout May and June staff, physicians, students and volunteers generously rolled up their sleeves to support LHSC's Blood Donor Challenge. This year's challenge saw an incredible 197 units of blood donated – a boost from last year's total of 167 units, and our highest Blood Donor Challenge total to date! Thank you to all who donated blood for their commitment to maintaining a stable blood supply for our patients.
LHSC is a proud member of the Canadian Blood Services Partners for Life program which encourages staff and physicians to make a lasting commitment to blood donation. Group donations have a significant impact on the number of blood units LHSC contributes to our yearly Partners for Life total. During the challenge, 12 groups from LHSC who are registered as Partners for Life members visited Canadian Blood Services to make group donations, including:
Medical Affairs
MRI Team
Lawson Health Research Institute
Victoria Hospital Ultrasound
Labour and Delivery
Decision Support, Patient Experience and Corporate Planning
Patient Relations
Fitness Program
Prevention and Early Intervention Program for Psychoses
Financial Services
Victoria Hospital Operating Room
Children's Health Foundation
Congratulations to Gillian Edwards, Partners for Life member who made a donation appointment during the Blood Donor Challenge, and wins the bag full of LHSC branded items.
The need for blood is constant. Please visit blood.ca or call 1-888-2DONATE to book an appointment.