March 29, 2018
Staff and physicians at LHSC contributed nearly 1000 lbs. of food to the 2018 Spring Food Drive, just in time to help London families in need for Easter. A sincere thank you to all those who contributed to this year's Spring Food Drive. Your continued generosity is gratefully appreciated by the London Food Bank and the clients they serve.  
A special thank you to Sheila Hall, and to the portering teams at University and Victoria hospitals for organizing and running the Food Drive.
The London Food Bank is in need of help year-round through food, time and dollars. Visit www.londonfoodbank.ca for information on how you can help.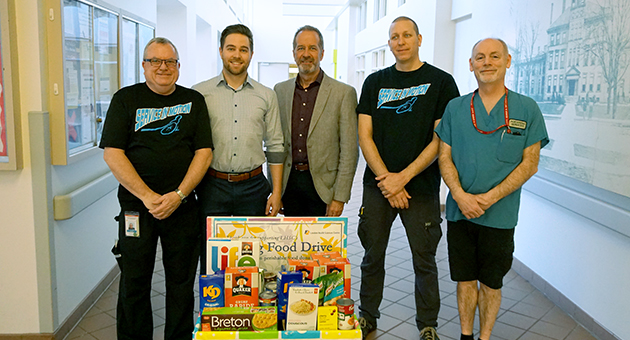 Representatives from the University and Victoria Hospital portering teams are joined by LHSC's President and CEO. From left to right: Stephen Tompkins, Chris Fry, Dr. Paul Woods, Ben Alton and Rob MacBean.