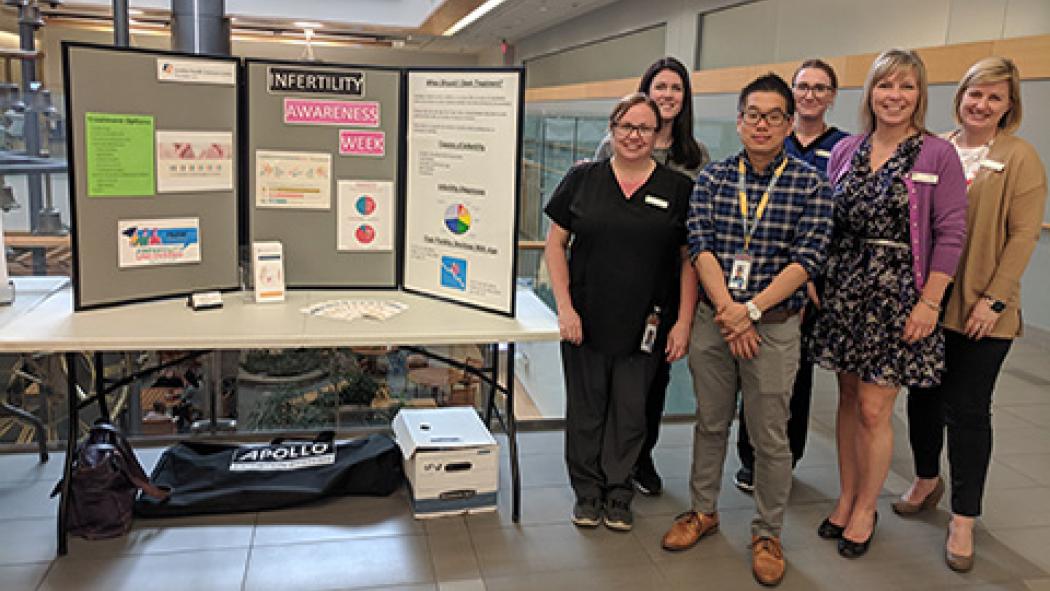 Left to right (back row): Nancy Lovecky, Registered Nurse, Jazmine Scicluna, Embryologist, Sarah Muto, Coordinator, (front row) Sara Johnson, Registered Nurse, Young Kim, Social Worker, and Deborah Wiseman, Director, are participating in National Infertility Awareness Week at Victoria Hospital.
April 23, 2019
National Infertility Awareness Week, April 21-27, aims to raise awareness of infertility and remove stigmas. The Fertility Clinic at LHSC is participating in Infertility Awareness Week with a booth at Victoria Hospital in the B2 atrium from Tuesday, April 23 to Friday, April 26 from 10 am to 2 pm.
Statistics show that 1 in 6 couples in Canada experience infertility in their life-time. Unfortunately, many individuals and couples who are experiencing infertility still feel isolated and stigmatized due to the private and misunderstood nature of reproductive health. Many of these can be changed by just simply recognizing and bringing awareness to the issues.
The Fertility Clinic offers a comprehensive range of infertility and gynecological services as well as advanced gynecological surgeries. Interested individuals can have their family doctor make a referral, or call the clinic directly at 519-663-2966 Extension 1 and arrange a self-referral.