November 7, 2013
For people with mental illness, stigma is more than a stereotype. It's a very real barrier to stable housing, employment, relationships, and wellness. Dr. Patrick Corrigan leads a national team of researchers in the United States dedicated to exploring the impact of stigma on recovery. On October 23rd, he visited London to share lessons learned and his hopes for the future of mental health care.
Research shows only 50% of clients take their medications as prescribed because they fear the perceptions associated with mental illness. They worry about the discrimination they will face from their communities, and the effects on their livelihood.
Dr. Corrigan has devoted his life's work to battling these powerful social forces. Almost a decade ago, he founded a Chicago-based research group dedicated to understanding the effects of stigma. Today, his efforts have transformed into the National Consortium on Stigma and Empowerment (NCSE).
The NCSE is dedicated to reducing the stigma that prevents people with mental illness from seeking the help they need. Current projects include evaluating a journalism fellowship designed to train reporters to write without stigma. Through a partnership with the Department for Veteran Affairs and the Department of Defense, the team is also working on anti-stigma programs to encourage soldiers to seek out services for Post-Traumatic Stress Disorder.
Dr. Corrigan delivered the keynote presentation at the 3rd Annual Community-University Research Alliance (CURA2) Conference, held October 23-24 at the Lamplighter Inn and Conference Centre here in London.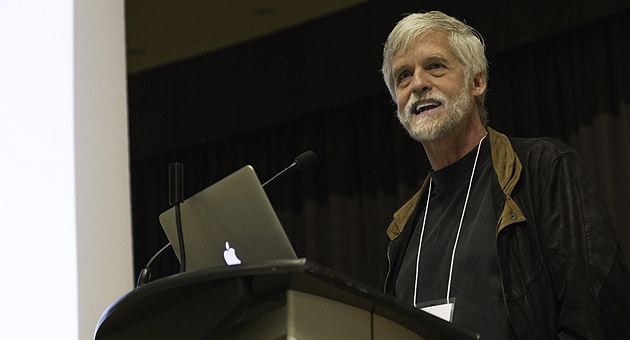 "Study participants have described how stigma and exclusion can be worse than the mental illness itself," says Dr. Cheryl Forchuk, Academic Co-Chair for CURA2 and Scientist at Lawson Health Research Institute and Western University. "Dr. Corrigan is a leader in research seeking to address this problem."
"Despite the challenges of stigma, poverty, social exclusion, and "life on life's terms" for individuals with lived experience, I am grateful for all those who have walked before me and continue to walk beside me each day," says Betty Edwards, Community Co-Chair for CURA2 and Community Research Coordinator and Housing Advocate at Can-Voice.
Dr. Corrigan is a Distinguished Professor and Associate Dean for Research at the Institute for Psychology at the Illinois Institute for Technology in Chicago. He has received countless awards for his work, and published more than 300 articles on the subject. He is also currently editor-in-chief of the American Journal of Psychiatric Rehabilitation.