July 7, 2014
Structure of the patient's day was noted by frontline staff, leadership and inpatients as a gap to the inpatient mental health experience. As a result, in January 2013 a best practice initiative known as The Patient Structured Day was introduced to the inpatient population.
The Patient Structured Day sets out timelines and expectations for the day. A patient will know what to expect from their day and when, including group sessions, meals, and rest time.
Twelve Emotional Awareness groups, led by nurses, based in a mindfulness approach were added to the existing Addictions and Occupational Therapy groups. These sessions help patients to learn to manage their emotions and deal with unpleasant emotions. This initiative continues to expand, and flourished with the addition of an inpatient journal known as Create My Stay.
Create My Stay was designed by frontline nursing to help develop an anchor for new patients who can be overwhelmed and anxious upon arrival to the inpatient units. The journal offers valuable information regarding the expectations of admission including: participation in The Patient Structured Day, guidelines to the unit, group sessions, a place for personal goals, space for group exercises, community resources specific to the patient and  an evaluation form. The journal is to accompany the patient to every group he or she attends as well as every interaction with the psychiatrist, social worker and occupational therapist. This way the patient care team is up to date with patient progress and commitment to the inpatient treatment program.
Create My Stay is the patient's personal property to take home. "Our community partners have been introduced to the journal as they liaison with inpatients frequently," says Elizabeth Runciman, Registered Nurse, Inpatient Mental Health. "By having our community partners aware of what is happening from an inpatient perspective they are better able to plan care required in the community." Through this, the patient can continue to move forward on the goals established during the inpatient stay.
Centralized Emergency Psychiatry Service (CEPS) nurses in the Emergency Department have also been introduced to Create My Stay and are able to discuss it with potential patients, helping them to understand the mental health unit environment.  As well, inpatient RNs can meet with admitted mental health patients in the ED who are waiting for a bed to assess the patient's ability to begin attending inpatient groups while still in the ED and introduce the patient to Create My Stay.
From a frontline nursing perspective, RNs are participating in one to two day seminars on motivational interviewing, which engages a patient on their emotional level, and in community of practice groups twice weekly on motivational interviewing with Addiction Consultant Chantal Dubois. Nurses are also attending daily groups to develop facilitator skills and mindfulness technique.
The individuals involved in developing The Patient Structured Day and the Create My Stay journal are as follows: Mary Reid, Elizabeth Runciman, Martha Wilke, Alexandria Houston, April Mullen, MaryAnn Linley, Chantal Dubois, Manny Mediros, Occupational Therapy Department of MH, Heather Beath, Gillian McCallum and many of the frontline nurses of Inpatient Mental Health.
This is only one of the over 130 initiatives that have grown out of CQI councils, established by Professional Scholarly Practice to empower front-line staff through shared governance models and the implementation and actualization of Continuous Quality Improvement (CQI) throughout the organization.  
The CQI councils enable staff at the point of care, who have the specific knowledge of the issues and the solutions, to implement the changes necessary to increase the quality and safety of care delivery.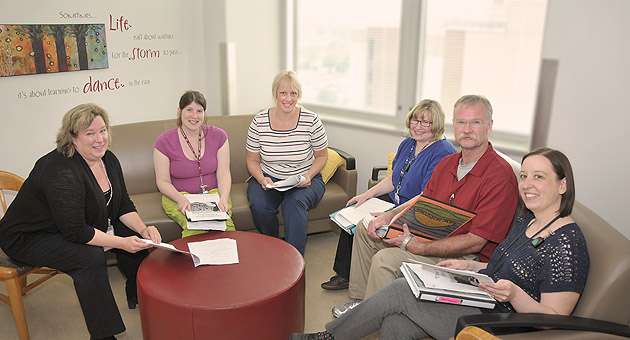 Inpatient mental health staff gather for training.