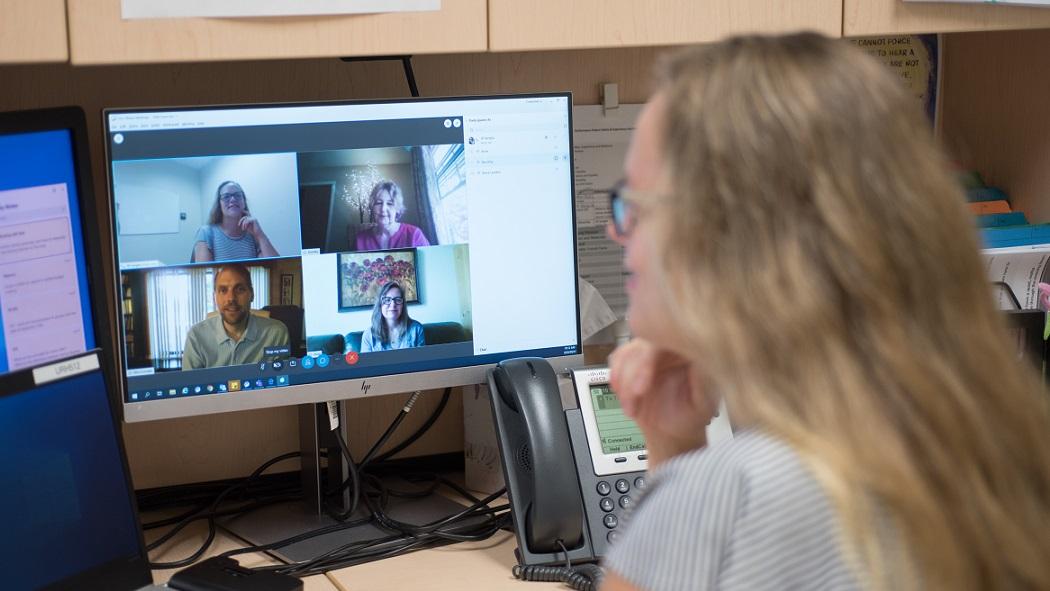 Members of the Patient Partner Rapid Feedback Team meet virtually with Jill Sangha, Manager, Patient Experience.
September 15, 2020
Dorothy Pol brings a lot of experience to her role as a Patient Partner, as a daughter of an elderly patient and the mother of a patient. She began volunteering with the Patient Partner program just over two years ago. This past Spring, she joined the Rapid Feedback Team, created by Patient Engagement to ensure the information being developed and disseminated to patients and the public met their needs.
When the COVID-19 pandemic arrived in March, information and updated policies were happening at a rapid pace. Ensuring that patients and the public could understand the information that was being delivered was of importance to the Patient Engagement team led by manager Jill Sangha.
"Patient Partners have been engaged from the beginning of the pandemic to ensure our visitor policies, signage and website information is accessible for everyone and easy to understand," Sangha explains. "With how quickly things were changing, we realized there was a need to create a dedicated team of Partners who could receive, review and respond to change requests within two to three hours."
The Rapid Feedback Team is comprised of 15 Patient Partners who are very passionate individuals who are dedicated to being involved during this time. The majority of the engagement with the Rapid Feedback Team is through email.
For Pol, this engagement is important. "We provide a lens into the experience of being a patient or family caregiver and help minimize the gap between the hospital and patients. We are making sure patients are heard and appreciated for what we do and our experiences," she explains.
Pol's lived experiences with her son who is immunocompromised, lent her to work with Infection and Prevention Control. During this pandemic, she's been able to help promote the importance of hand hygiene. "I've been able to give feedback on the website and help make visitors and patients aware of the importance of hand hygiene. Part of my passion with COVID-19 Rapid Feedback Team is hand hygiene, it is one of the most basic and impactful steps to take against the virus," Pol says.
Pol chose to receive information and requests for feedback via email. This means that she is checking her email more frequently. "We go over the documents and offer suggestions to make them easier to understand and more accessible for people." The feedback the members of the team give is well received by Patient Engagement and the organization.
It's been a rewarding experience for Pol. "I am so happy to be a part of the Patient Engagement Office and the Rapid Response Feedback Team at this time because I can see how much work and effort the hospital is putting in to making sure patients are well cared for. The hospital is truly doing their best to make it easy and safe as possible so we can all get through this together."
The Patient Engagement Rapid Feedback Team is helping to ensure the voice of patients and families continues to remain at the center of everything we do; even through the pandemic.