August 12, 2013
Toronto Maple Leaf and London native, Nazem Kadri, visited the Intensive Care Unit (ICU) at London Health Sciences Centre's (LHSC) University Hospital to see a former patient and current participant in the long-term ventilation program.   
During his six month stay in the ICU, Ricky Clark, 22, a die-hard Toronto Maple Leafs fan, and his care team reached out to Kadri in the hopes that a visit would boost his spirits.
"It's great to meet Nazem Kadri," said Clark. "I watched him play as a London Knight, for Team Canada and now for the Leafs." Kadri brought Clark an autographed hockey stick from his time playing with Team Canada at the World Junior Hockey Championship.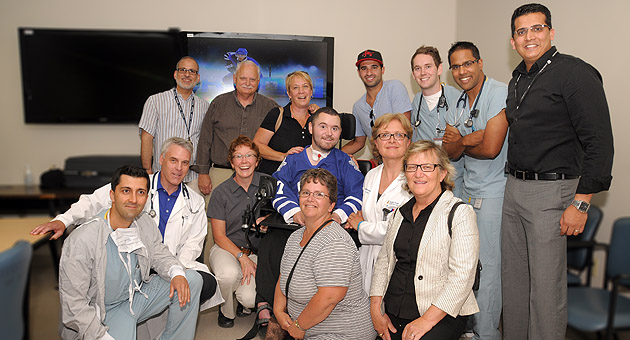 Nazem Kadri visits Ricky Clark, his family and his care team in the intensive care unit at University Hospital.
Clark, who has Duchenne muscular dystrophy, was discharged from hospital after receiving training on how to live with a ventilator in the community before the Toronto Maple Leafs playoff run ended.
"Typically, patients who require ventilators must stay in hospital," says Dr. Wael Haddara, site chief, medical surgical ICU and physician lead, critical care outreach team, LHSC. "The long-term ventilation program helps those patients live with dignity in their home or a supervised environment, while remaining on a ventilator, and ensures beds remain available in hospital for patients with acute care needs."
"The goal of the program is to help these patients receive the right care, in the right place at the right time," adds Cathy Mawdsley, clinical nurse specialist, ICU. "For Ricky, that meant getting him out of the hospital, into Participation House, and eventually it means getting him into the arena to watch a London Knights game live."  
Approximately 120 patients currently benefit from the long-term ventilation program through outreach, clinic visits, and occasional hospital admissions.