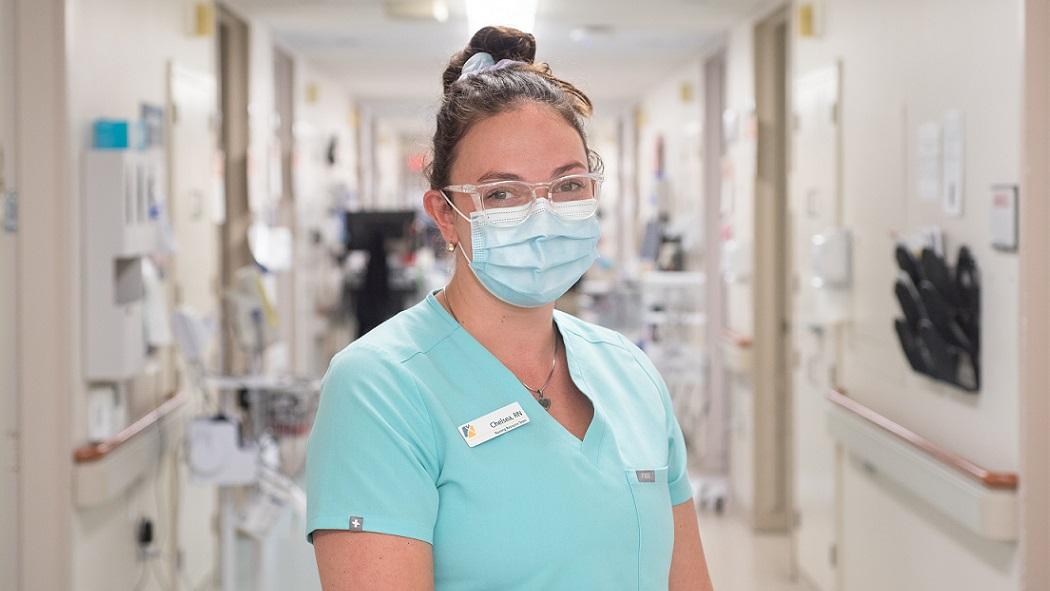 July 28, 2021
When nurses join London Health Sciences Centre (LHSC), they go through a week-long orientation that is normally held in person and involves simulation training before they join their colleagues on the floor. During the COVID-19 pandemic this on-boarding process changed with the restrictions for room capacity and in-person meetings. For new nurses, this has meant starting their careers in a time of constant change.
For Chelsea Hillman, a nurse hired in April 2021 this has been a challenge and a benefit. "Overall I feel that starting during the pandemic has been a challenging experience but has really pushed me to learn quickly and adapt to be a well-rounded nurse right off the bat," says Hillman.
Typically, new nurses go through an orientation that includes simulation-based training to ensure they have the skills and comfort level in performing tasks such as administering blood products and performing central line dressing changes. With the restrictions on group sizes and limits on room occupancy, the simulation training has been temporarily switched to a virtual training session, supplemented with on the job training once new hires begin working on the units. Clinical educators are responsible for delivering this training and have had to adapt and be creative in delivering this training virtually to cover the intended learning objectives while also engaging and challenging learners to problem solve and think critically in the context of an acute care setting.
Cassandra Nutkins is a clinical educator for the Nursing Resource Team (NRT). The NRT is a team of 140 nurses who typically provide support to units throughout the hospital when they run into staffing issues or when patient levels demand extra support. Since the implementation of communities, work groups that limit the movement of staff across units and sites, the NRT nurses have been redeployed to support specific home units. Hillman, for example, was redeployed to the Acute Medicine unit at University Hospital.
Nutkins has noticed an increased need for one-on-one teaching and coaching at the bedside with the temporary suspension of the simulation portion of the orientation sessions. "The in-person follow-up once the staff are on the floor is crucial now, more so than before to ensure nurses feel supported and are able to work safely and independently on the unit," says Nutkins.
Typically, the Centralized Staffing and Scheduling Office reviews staffing needs throughout the organization and assigns NRT nurses to units where these needs exist. The NRT members start out as generalists, and over time may receive training in the specialized skills for a particular unit like neurology or cardiac care. The general NRT in-class training has been suspended and NRT nurses now receive unit-specific training relevant to the community to which they have been redeployed. This happened at the end of December 2020 when the communities were created throughout the organization; prior to that the NRT still floated between units/departments.
Hillman is one of the new NRT nurses and this has meant she has spent her time as a new hire in Medicine at University Hospital. As a student prior to that, Hillman spent her time on those units since mid-2020. While she wasn't there during the outbreaks in November and December, she has seen the impact in conversations with colleagues.
"It really hit me as a student, you choose nursing as a profession where you know you're going to be helping people and you're needed. Working through this scary time and putting yourself and your family at risk, I really realized how nurses are required, how important our role is," Hillman reflects. As for the virtual training, Hillman had an overall positive experience, but there were some areas she felt would be more impactful when held in person. "This is where Nutkins' role as a coach and mentor at the bedside for our NRT nurses is critical," says Jon Lao, Manager of the Nursing Resource Team.
Clinical educators have adapted to the COVID-19 pandemic using a virtual format to orient new nurses at LHSC.