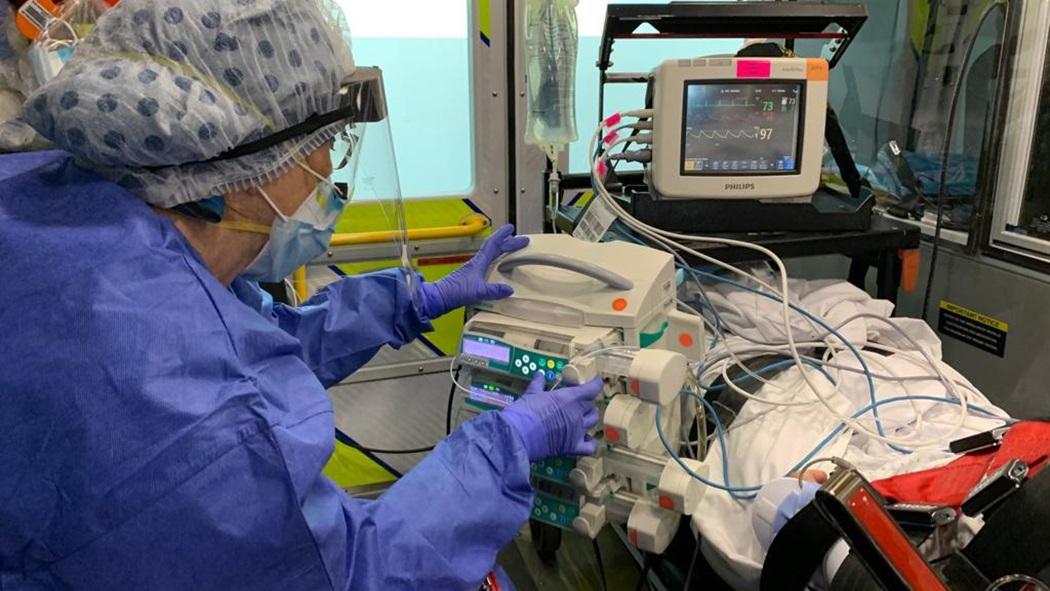 Marilyn Risk, Registered Nurse at LHSC, caring for a patient during transport.
May 12, 2021
When critically ill patients are transferred from one hospital to another, they require the support of specialized health-care teams. To address the high number of patient transfers during Ontario's third wave of the COVID-19 pandemic, a critical care transport team was recently established at London Health Sciences Centre (LHSC). 
To balance critical care capacity across the health-care system, patient transfers are managed through the Ontario Critical Care COVID-19 Command Centre. LHSC works collaboratively with the Ontario Critical Care COVID-19 Command Centre to coordinate patients transfers to and from our hospitals. While transportation is normally facilitated with Ornge, a recent significant increase in patient transfers necessitated collaborative solutions like the LHSC transport team.
The team was created in partnership with Middlesex-London Paramedic Service and consists of physicians, respiratory therapists and registered nurses who have completed specialized training in care and management of critically ill adults. They work alongside Middlesex-London Paramedic Service to transfer stable critically ill COVID-19 patients across the province to the most appropriate hospital as identified by the Ontario Critical Care COVID-19 Command Centre. 
"The third wave has necessitated patient transfers so that every Ontarian receives the care they need. This group of exceptional professionals is helping to expedite such transfers," says Dawna Van Boxmeer, Director of Critical Care and Respiratory Therapy at LHSC. "Establishing this team so quickly is the result of collaboration between our physicians, nurses, respiratory therapists, safety and risk teams, and Middlesex-London Paramedic Service."
After completing a test run, the team transferred their first patient from London to Windsor on Friday, April 16. 
 
 Members of the critical care transport team (from left): John Hewitt, Dr. Chintan Dave, Scott Marshall, Marilyn Risk, and Mike Chapman.
Members of the critical care transport team following a test run (from left): Kelli Matous, Michelle Stephens, Stacy Ballantyne, Adam Tapp, Marilyn Risk, John Hewitt, Brenda Morgan, and Dr. Raymond Kao. 
The critical care transport team performing a test run.