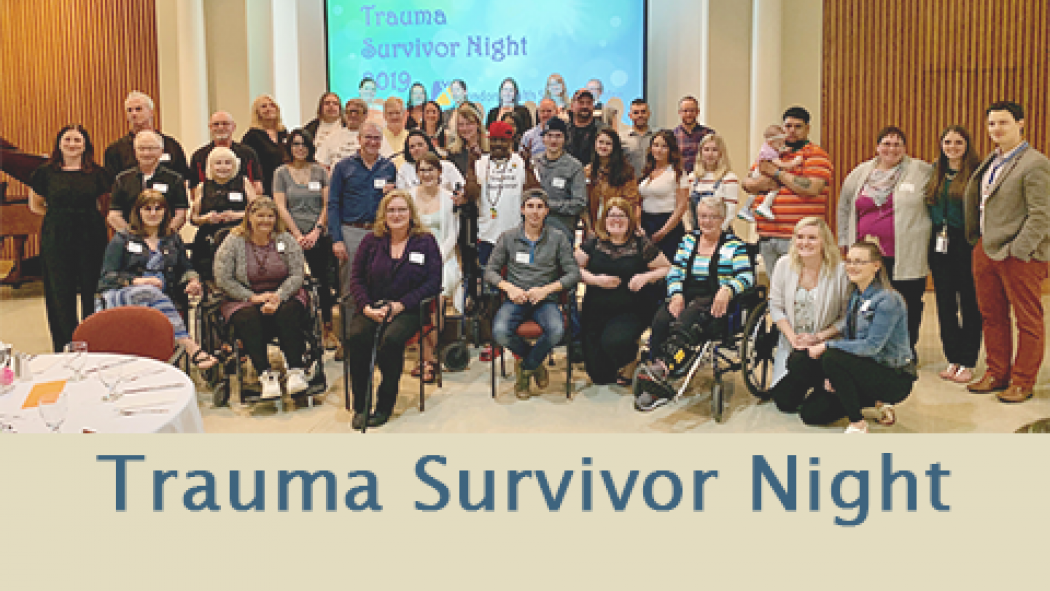 On May 16, London Health Sciences Centre's (LHSC) Trauma Program held its second annual Trauma Survivor Night at King's University College. The Trauma program hosted 130 individuals, including 25 former patients, with the support of their family members, joined 33 staff members from the Emergency Department, Critical Care Trauma Centre, and Ortho/Trauma to reunite, share stories of recovery, and recognize everyone's role in overcoming trauma.
"The idea of Trauma Survivor Night acknowledges that the trauma experience does not end once a trauma survivor is discharged from the acute care hospital. Recovery is a long, slow process, which most acute care hospital staff do not witness," says Amy Makish, Nurse Practitioner, Trauma Program, LHSC. "Our evening provides staff an opportunity to connect with their patients, aims to improve the social and emotional health of survivors and their families, and empowers survivors to network with other survivors to minimize isolation in recovery."
Invited to the event are patients who were admitted to Victoria Hospital as a result of a trauma in the past year as well as patients who attended the event the year before who can help provide support and insight to others. The evening began with opening remarks from Dr. Neil Parry, Medical Director, Trauma Program, LHSC, who was followed by a "Celebrating Survivors and Caregivers" speech by LHSC Trauma Program Social Worker Jeanne Webber, and, the highlight of the evening, an opportunity for trauma survivors to share their story of trauma and recovery.
"It's powerful and very emotional to see the incredible resilience and strength of our patients and their loved ones," says Dr. Parry. The evening gives caregivers an opportunity to witness the progress their patients have made, and patients have the opportunity to 'meet' their caregivers, since many of them forget the details of their trauma care.
One patient notes that the evening provides, "a piece of closure for those of us needing to put fragmented memories together and say thank you, share our recovery journeys, and gave us peers in fellow survivors to feel a sense of community and not entirely alone in our struggles."
The idea for Trauma Survivor night came from Dr. Kelly Vogt, Associate Medical Director for the Trauma Program, who experienced a similar event during her Trauma Fellowship in LA County. The evening was organized by a committed including Dr. Vogt, Webber, Makish and Alison Armstrong, Coordinator, Trauma Program, LHSC.
The use of the room at King's College was graciously sponsored the School of Social Work.