February 10, 2014
London Health Sciences Centre congratulates Susan Rosato, Fitness and Health Nurse, who was recently recognized with a United Way Labour Appreciation Award on Jan. 23.
Rosato, who was an dedicated and enthusiastic "Champion" during LHSC's employee United Way Campaign, was nominated by the London Labour Committee for her outstanding volunteer service and community engagement with the United Way.
While the success of the 2013 LHSC United Way Campaign will be revealed on Feb. 20 (see details below) there's no denying the enthusiasm and energy the United Way Champions—including Rosato—brought to this year's campaign. 
Rosato has been actively involved in LHSC's United Way (UW) Campaign for the past two years, organizing innovative fundraisers tied to the LHSC Fitness Program. This was her first year as both a champion and a member of the LHSC United Way Campaign Committee, and in addition to organizing charity yoga and Zumba nights, she also pioneered the first "Donate Your Dimes" campaign, helping kick off the LHSC UW Campaign with more than $5,000.
Throughout the UW campaign Rosato also organized cake and gift basket raffles, snack carts, and she helped organize LHSC's United Way Stair Climb team.
"Giving to other people gives back to you in many ways. The more we support each other – both inside and outside our walls – the better off we are," says Rosato.
For more on what LHSC is doing to strengthen and enhance our community and partnerships, please visit the Caring for Our Community website.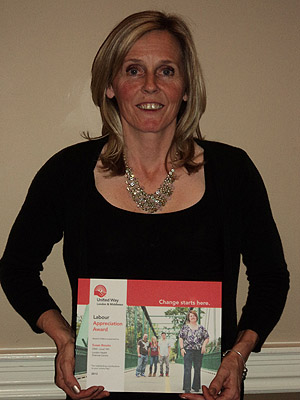 Susan Rosato, LHSC Fitness and Health Nurse, received a United Way Labour Appreciation Award on Jan. 23.