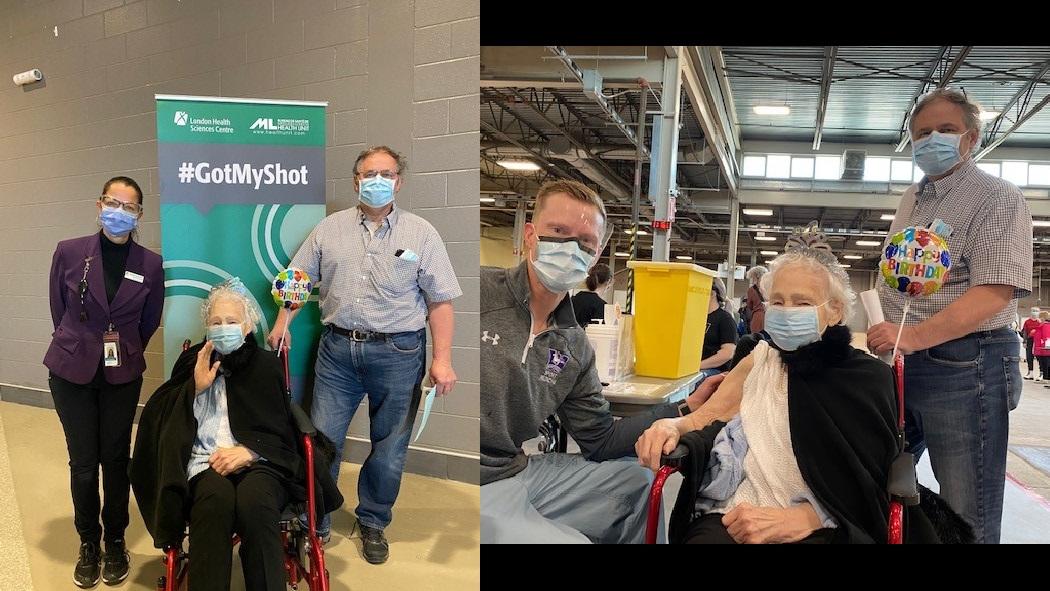 March 8, 2021
The COVID-19 Vaccination Clinic at the Western Fair District Agriplex was pleased to welcome Giancarla Angelini today - on her 96th birthday! She arrived in queue with a festive birthday balloon and tiara, extremely happy to get her COVID-19 vaccination. She stole the show as she entered the senior help/consent form check area. You could see her face beaming with smiles in her eyes and from behind her mask as staff sang "Happy Birthday" to her!
Giancarla was born in Suzzara Italy, just south of Verona. She arrived in Canada in 1956 with her husband and their son, Carlo, who was just one year old at the time. In recent years after her husband's passing, Giancarla moved to London to live with her son's family. Carlo's wife also works for LHSC as a NICU nurse at Children's Hospital. Carlo was thrilled he could bring his mom to receive her vaccination on her special day. She seemed to enjoy the spectacle she attracted with her balloon and tiara – even waving like the Queen for many of the photos taken by staff!
We are pleased to begin welcoming the 80-plus population to the Agriplex clinic as vaccine eligibility was recently expanded to this group and we'll be sharing more details of how LHSC's teams are making the experience senior-friendly.