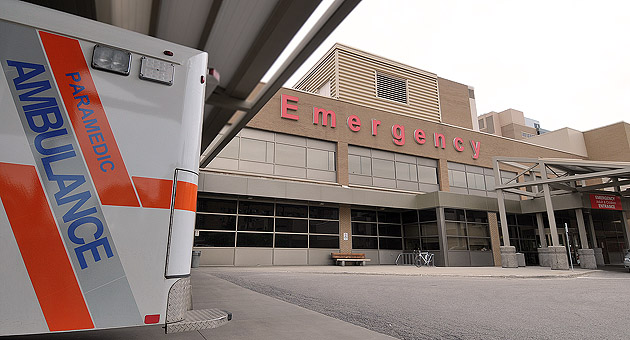 As the Victoria Day long weekend approaches, the Injury Prevention Team at London Health Sciences Centre (LHSC) is reminding everyone to make safe and smart decisions to keep people out of the hospital's trauma room.
"Each year we see a substantial increase in the number of severe traumas beginning the Victoria Day long weekend," says Dr. Neil Parry, Medical Director of Trauma. "As the warmer weather approaches and outdoor activities increase, this unfortunately results in the start of trauma season for LHSC."
From last year's May long weekend until the September long weekend, LHSC staff and physicians treated nearly 350 severe trauma patients – about 40 per cent of the annual total of trauma cases. The most prevalent cause of injury in 2015 was motor vehicle collisions (MVC) which accounted for half of all severe traumas. 
Nearly 20 per cent of severe traumas sustained through motor vehicle collisions involved motorcycles, and 11 per cent involved cyclists. According to the Ontario Provincial Police, in many cases these injuries were sustained while the motorcycle driver and cyclist were driving properly at the time of the crash. And of the MVC patients tested for blood alcohol concentration, nearly 25 per cent were positive for consuming alcohol.
Traumatic injuries are preventable and these safety tips can help to ensure that everyone remains safe while enjoying summer activities:
Driving Safety – Remain focused on the driving task. Do not allow yourself to become distracted while driving. Always drive sober. If you've been drinking, ask a sober friend for a ride or call a cab. If you're planning to drink, make sure you have a designated driver. Look out for pedestrians, cyclists, children and other drivers—share the road, be courteous and respectful. On the long drive to the cottage or on the road to visit friends, please slow down, pay attention and share the road. Frustration over traffic, taking that final work phone call or e-mail, or "having a drink for the road" before you head out can have deadly consequences
Wheeled activities (Bicycling, Rollerblading, Skateboarding) – Wear the gear - every time. It is the law in Ontario that children and adolescents, under the age of 18, must wear a bicycle helmet while riding a bicycle on roadways or sidewalks. Wear it right - A helmet should fit 2 fingers above the brow, the straps should be positioned in a "V' formation around the ears and one finger should fit between the chin and the fastened strap.
LHSC's Trauma Program would like you to stay out of our trauma room this weekend. Stay safe and have a wonderful long weekend.