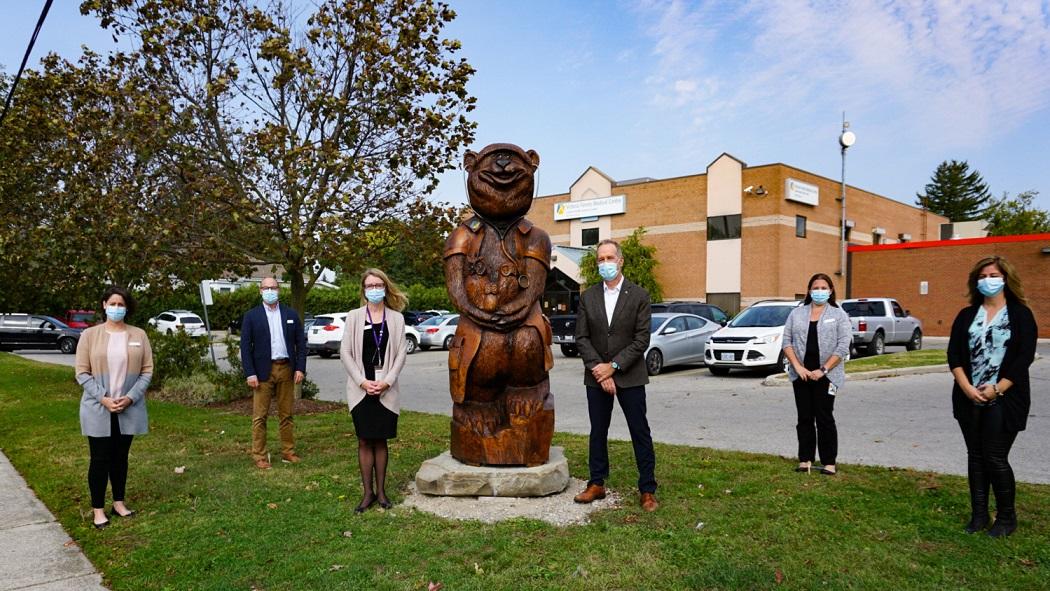 Posing with the new Dr. Tree-age sculpture outside of the Victoria Family Medical Centre are, from left: Erin Chapman, VFMC Medical Secretary; Tim Rice, Director, Medicine and Family Medicine at Victoria Hospital; Dr. Stacey Valiquet, VFMC Medical Director; Dr. Paul Woods, LHSC President and CEO; Kim Farrow, Operations Manager, Medicine Ambulatory Care; and Amanda Grant, VFMC Medical Secretary.
October 23, 2020
LHSC's Victoria Family Medical Centre (VFMC) is proud to mark its golden anniversary this year, celebrating 50 years as a community-based family practice clinic with a current roster of about 5,000 patients.
Originally a hospital outpatient program when it began in 1970, VFMC moved into the Hamilton Road community in 1972, occupying its current facility at 60 Chesley Ave. since 1992.
The VFMC was one of the first academic family medical centres in the Department of Family Medicine, and the first in Canada to be located in the community rather than the hospital.
"London is known as the birthplace of academic Family Medicine in Canada," says Dr. Stephen Wetmore, Chair/Chief of Family Medicine at LHSC and Western University. "By locating VFMC close to the community of patients they served, they were confirming the principle that family medicine is a community-based discipline."
For nearly 50 years, VFMC has been located in an area of London whose population is enriched by cultural and ethnic diversity, but not always socio-economic advantage. To that end, VFMC has always been proud of the work they do to enrich the lives of those living in the community, such as fundraising, food drives and participating in the St. Julian Fall Fair.
"It helps to know what the community's needs are in order to provide the best possible care, and we're proud to be part of the vibrant Hamilton Road area," explains Dr. Stacey Valiquet, VFMC Medical Director, who has been with the centre for 15 years and oversees overall operations of VFMC from both a clinical and educational lens.
Collaboration with LHSC's hospitals and Thames Valley Family Health teams enables connecting patients to more services like occupational therapists, dietitians or social workers. VFMC also has an education mandate so trainees from the Schulich School of Medicine and Dentistry at Western University come to VFMC to train as family doctors.
To celebrate and commemorate VFMC's 50th anniversary, the team commissioned a tree trunk sculpture, part of a larger series for the Hamilton Road Tree Trunk Tour. The sculpture was created by chainsaw artist Robbin Wenzoski from Muirkirk, Ontario. Members of the VFMC sketched an initial idea for the sculpture and Wenzowski brought it to life. The sculpture features a bear lovingly named Dr. Tree-age, who represents the health-care providers, holding a family of owls, who represent the span of care from birth to end of life at a family medical centre.
"It's an amazing project that is unique to this part of London. The sculpture shows VFMC's connection to the community. It marks the history, and also thanks the community for embracing and including our centre," says Dr. Valiquet.
The Hamilton Road Tree Trunk Tour is a partnership between Tourism London, the City of London, STIHL Canada and the Hamilton Road Business Improvement Area.
"We have invented a new word to describe our Tree Trunk Tour experiences: Serendipi-tree!," says Dave Broostad of the Hamilton Road Business Improvement Area (BIA). He notes that this initiative began more than a decade ago when the BIA was searching for a way to bring the many diverse parts of the Hamilton Road business corridor together.
"The solution we came up with, the Hamilton Road Tree Trunk Tour, has grown organically in a way we could have never imagined. VFMC's will be our 25th sculpture," says Broostad. Soon after expanding its reach to include locations with a community or historical connection to the area, VFMC happened to reach out. "It was 'serendipi-tree' that we heard from Dr. Valiquet with interest in joining the tour!"
The Hamilton Road Business Improvement Area has created a video to showcase the unveiling of the tree trunk sculpture at VFMC. The sculpture can be seen outside VFMC at 60 Chesley Avenue, off of Hamilton Road.
"Congratulations to the staff and physicians at Victoria Family Medical Centre for celebrating 50 years of patient-centred care in the community," says Dr. Paul Woods, LHSC President and CEO. "As a former family physician myself, I understand implicitly the value and importance of family medicine and this milestone and sculpture are a wonderful opportunity to highlight the impact that community-based family medicine can have on its population."
For Dr. Valiquet, and the VFMC team, they appreciate the opportunity this 50th anniversary has created to reflect on their shared past while looking toward the future. "We're proud of providing multi-disciplinary care for 50 years in this part of London, honoured to look after our patients as well as help with the education of future family doctors. Our team hopes to continue for many more decades to come."