November 25, 2014
Victoria Family Medical Centre (VFMC), located on Chesley Avenue in East London, is one of two family clinics run by London Health Sciences Centre. Due to their removed location, the staff at VFMC have implemented continuous quality improvements that support their distinct processes.
VFMC partners with Thames Valley Health Team, so not only are physicians, medical residents, and registered nurses offering care, but social work, pharmacy, occupational therapy, psychiatrists, dietitians, and home care workers are available.
The CQI team, also known as a collaborative planning team, has been meeting for several years to develop ongoing enhancements for the staff and physicians, and their patients. Their most recent focuses have been on patient safety, infection safety, and education.
VFMC has a diverse group of patients including those with different levels of literacy and language barriers. To enhance and promote patient safety, the CQI team developed visual signs that easily demonstrate the "zero tolerance" rules of the clinic. Staff can refer to these signs when they need to communicate with someone who doesn't understand English. This provides a safer environment for staff and patients by clearly identifying expectations of behaviors from clients regardless of which type of provider they are visiting.
Education is a high priority for VFMC. Taking advantage of having one waiting room for all patients, a slide show plays during clinic hours to share information about the clinic, monthly teaching themes such as nutrition or heart health, reminders of community health opportunities such as cancer screening, types of services provided and preventative health care information.
Staff members at VFMC also participate annually in the St. Julien Park Community Festival, where they share information on a specific health topic, and meet people living in the VFMC community. This year the staff highlighted healthy eating, diabetes maintenance and physical activity.
Infection safety is an ongoing focus for VFMC. In an effort to stop the spread of germs, the CQI team increased hand hygiene signage, provide masks and hand sanitizer at the entrance for patients, and increased the availability of sanitizer in patient areas for physicians.
Mary Beth Rigg, registered nurse and chair of the CQI team, sees infection safety as a team effort by all staff and physicians. As a teaching environment VFMC has a high turnover of medical residents every few months, and Rigg recognizes the importance of instilling hand hygiene practices in these students. Rigg teaches the infection safety portion of VFMC orientation – stressing the importance of hand hygiene at moments 1 and 4 as well as being aware of the ways to reduce other germ transfers by following LHSC's cleaning policy for an ambulatory care setting.
"There's a noticeable difference in the attitude and performance of infection safety from those residents that were in orientation. The expectations that VFMC has for infection safety are laid out, and everyone is made aware of the infection risks," says Rigg.
With over 5,000 patients at VFMC, the ongoing dedication to quality improvement for staff and patient experience is important to the success of the clinic.
These are only three of the over 130 initiatives that have grown out of CQI councils, established by Professional Scholarly Practice to empower front-line staff through shared governance models and the implementation and actualization of Continuous Quality Improvement (CQI) throughout the organization.  
The CQI councils enable staff at the point of care, who have the specific knowledge of the issues and the solutions, to implement the changes necessary to increase the quality and safety of care delivery.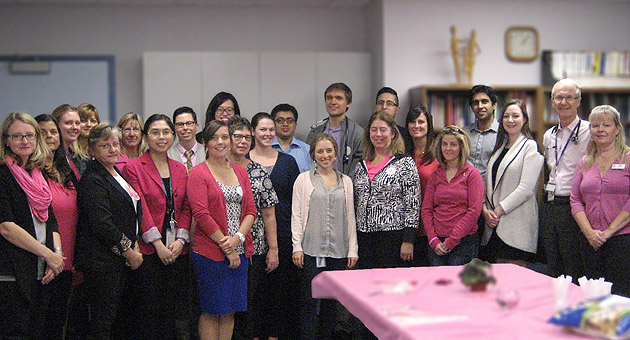 VFMC staff participate in their Breast Cancer potluck luncheon.