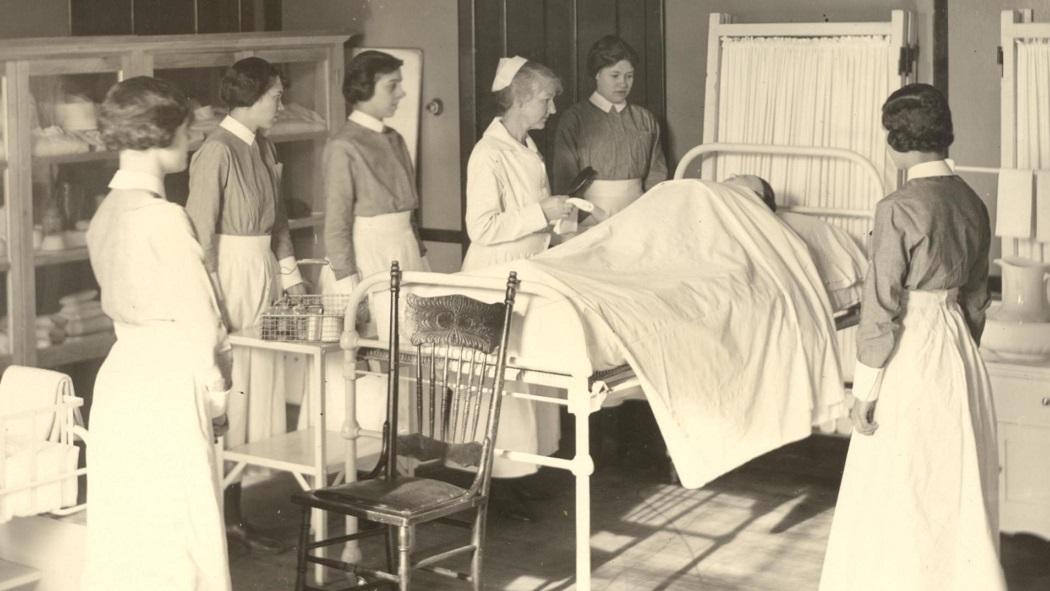 Nurses Learning at the Bedside, 1924, photograph, Collection of Museum London, Gift of the London Health Sciences Centre, 2004
August 13, 2020
The exhibit is open until Sept. 6
In 1883, the Victoria Hospital School of Nursing (also known as London General Training School for Nurses) opened with three students enrolled—this was only the third nursing school established in Canada at the time. Students lived in the hospital (later known as South Street Hospital) until the opening of the Nurses' Residence on South Street in 1905.
Nursing education in London transferred from hospital schools to community colleges—including Fanshawe College—by the 1970s. In 2001, an integrated program between Fanshawe College and Western University (Western) began. But Western entered the nursing education field long before that with a course leading to a Certificate in Public Health Nursing starting in 1920, which means they are celebrating 100 years of nursing education in 2020.
To mark this milestone, Museum London has partnered with Western as well as Fanshawe, LHSC, St. Joseph's Health Care London, and others, to present an exhibition titled "100 Years of Nursing Education in London," which will run until September 6.
"London has a rich and distinguished history of educating nurses, and this exhibition is an exciting showcase of the changes over the years," says Carol Young-Ritchie, Executive Vice President, Chief Nursing & Health Professions Officer & Chief Quality Officer at LHSC, and a proud alumnus of Fanshawe College (Diploma of Nursing 1984) as well as Western University (Bachelor and Masters of Science in Nursing 2001 & 2007). "In fact, 2020 is an important year for the nursing profession overall, marking the 200th anniversary of the birth of Florence Nightingale resulting in the World Health Organization declaring it the International Year of the Nurse.
Some of the artifacts in the exhibition are from LHSC's collection, including a doll of a probationary nurse (often referred to as a "probie" back then) given by a 1913 graduate of the nursing program. This doll, and several more items from Western, St. Joseph's Health Care London, Sisters of St. Joseph's and private citizens, are on display.
"The exhibition features many artifacts and interesting stories that explore the rich history of nursing education in London, including at the hospital schools, Western, and Fanshawe College," explains Amber Lloydlangston, Curator, Regional History at Museum London.
Read more about the exhibit as well as COVID-19 precautions and hours on the Museum London website.