April 6 - 12 is National Volunteer Week
April 10, 2014
Bob Summerhurst is one of the more than 900 hospital volunteers helping to improve the experience of our patients and visitors every day at London Health Sciences Centre.
Summerhurst, now retired after a successful career in banking and running his own business, volunteers at LHSC's Victoria Hospital in the London Regional Cancer Program (LRCP), the operating room waiting room, and as a Guide –answering questions and helping visitors find their way. He has been volunteering his time and talent at LHSC for the past three years. "Seven years ago my wife passed away as a result of cancer and we both appreciated the support we received during that time from unexpected people. Volunteers, social workers and health care staff made a difference in our experience."
"I enjoyed the breadth of opportunities within the hospital offered by Volunteer Services," says Summerhurst. "They  are very open to matching volunteers with their interests."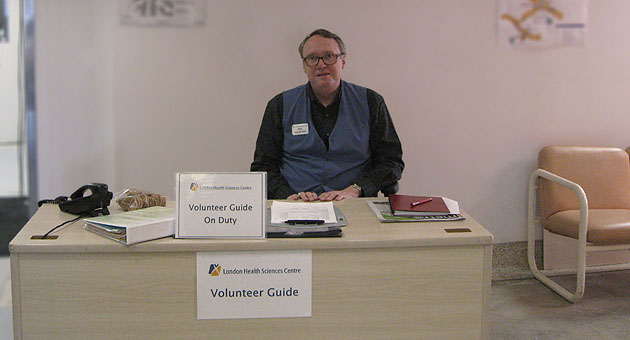 For Summerhurst, volunteering is his way of helping people in little ways and perhaps repaying some of the kindness he and his wife experienced. In the simplest form he helps "move people along" by directing them to their destination. A trip to the hospital can be a stressful experience for patients and families and a friendly face to guide them can make the experience much easier.  At LRCP he draws on his experience and understanding of what patients and families are going through to better assist them.
"I enjoy the conversations I have with people in the hospital during every shift," says Summerhurst. "I am constantly learning something new and it continues to motivate me." He also enjoys working with the other hospital volunteers, all of whom are motivated to help others.
Volunteers at LHSC have been enhancing patient care since 1924. There are currently over 900 volunteers servicing 90 programs across Victoria Hospital, University Hospital, and the London Regional Cancer Program. Roles are filled by a wide range of dedicated people, from high school students to retirees, who provide services including, information desks, delivering e-cards and flowers, escorting patients and families to appointments, supporting patient care areas, and operating gift shops.
 "We are very grateful to our volunteers. Their daily presence provides an invaluable service to our patients, families, and visitors," says Cindy Collins, Manager of Volunteer Services at LHSC.