September 7, 2012
At LHSC approximately 800 volunteers spend at least one three to four hour shift providing service to over 90 programs. Michela Solinas is one such volunteer.
Solinas has been volunteering every Thursday afternoon in the perioperative waiting room at Victoria Hospital since October. Her dedication to her volunteer duties became even more evident once she finished the school year at Western University and continued to drive to her shifts from Sarnia.
She spent a majority of her time interacting with patients and their families learning "patience, understanding and most of all – empathy." Solinas' responsibilities include receiving patients and families, dropping off files, and providing families with hourly updates from the post-anesthesia care unit (PACU). "At times, interacting with patients and their families can be stressful because it can be a very difficult time for them, but it has been a very fulfilling and gratifying experience."
Solinas was surprised and pleased by the responsibility she was given in her volunteer position. "I want to be a nurse and volunteering in this capacity allowed me a glimpse into the environment I will be working in my future career,"said Solinas.
"Observing caregivers at work has made me want to be as hardworking, knowledgeable and caring as they are. I am particularly touched with how the staff in the day surgery unit, PACU and surgeons themselves welcomed me, making me feel like I was part of their team and that my contribution was as valuable as that of any other member of the healthcare team."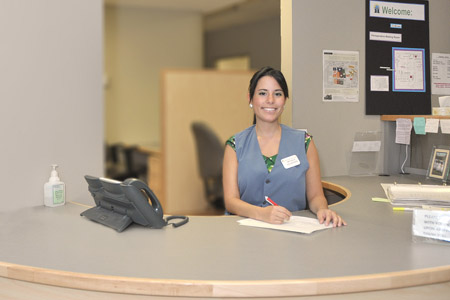 Michela Solinas' volunteer work at LHSC inspired a career in nursing
She is also grateful for the support she received from the staff of volunteer services at LHSC, specifically, Meaghan Innes, volunteer services assistant and Cindy Collins, volunteer services manager. "They were great mentors, offering guidance and encouragement in a caring way. I am grateful I had these two wonderful individuals I could go to at any time I needed the right words," said Solinas. "I would definitely recommend volunteering at LHSC as a first experience for anyone interested in working in health care."
In the fall, Solinas will be attending the University of Toronto for its Compressed Time Frame Nursing Program. "As thrilled as I am to continue my education, I know I will want to be back at Victoria Hospital one day to work among these wonderful professionals again."
Anyone interested in volunteering at LHSC can visit http://www.lhsc.on.ca/About_Us/Volunteer_Services/